Well that was a trip!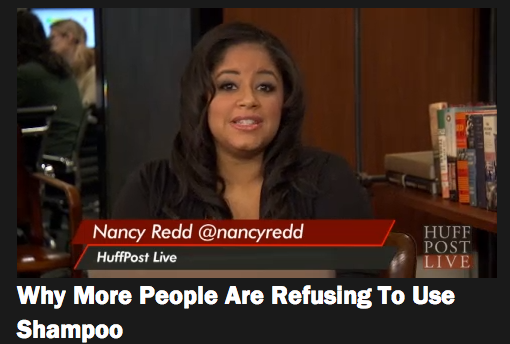 I was on Huffington Post Live!
I was talking about my experience going No 'Poo! You can watch the whole interview here:
So, how did I get on Huffington Post?

Well, late yesterday afternoon I received a tweet asking if I was interested in participating in a live chat about ditching the shampoo and using no 'poo with Huffington Post. I couldn't say no to an opportunity like that, so I emailed them back and was told I was one of the few people selected for this discussion, but I still needed to go through a screening before I could be selected.
Today I had a pre-interview and conversation with Community Screener and then an Associate Producer to talk about my story. We used a Google Hangout so they could confirm I had working video, that my background was correct (needed depth, no white walls were acceptable) and that my audio sounded good. Then I was told I'd get a call if they wanted to include me.
So of course I have been a nervous wreck all day waiting for that call!
They finally called me less than 30 minutes before I had to log in to the Google Hangout. After that, I rushed around the apartment cleaning up any area that might be on film, brushing my teeth, combing my hair, putting on lip gloss, gathering up my headphones and got my laptop set up on this precarious setup.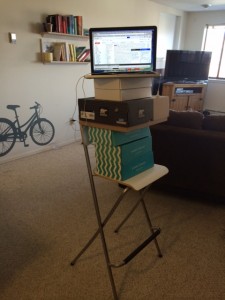 Then there were a few awkward minutes that were spent awkwardly chatting with the other girls participating in this conversation, Hanna, Jacquelyn, and Letecha, waiting for go-live.
After that, we were live!

(Thanks to my mom for snapping this pic while I was chatting!)
The rest is pretty much history.
How did I do?