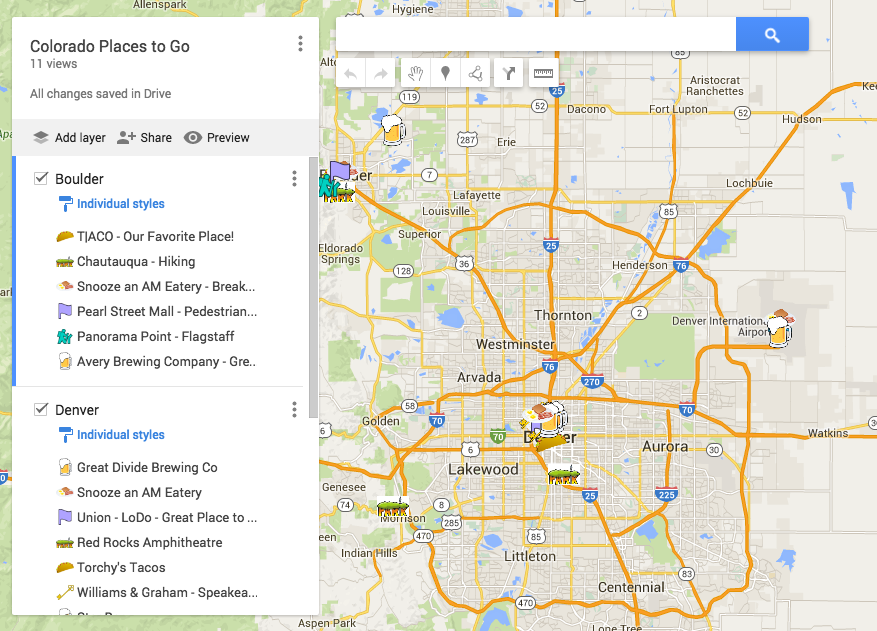 I've been using the "My Maps" feature on Google Maps for a few years now. I created a map of my 2015 travels, as well as everywhere we went in Dublin over Christmas in 2014. These maps help me remember where we went, but also are great for blog posts and to share with others when they ask for recommendations when traveling.
However, my new favorite thing, is creating maps to share with people before our travels.
My parents are coming out to NYC to spend time with Jonathon and me this summer, so I've started a map of things we want to do: museums, places to eat, toursity things to see, and, my favorite, their hotel, our apartment and where their friends are staying. Not only is it a great pre-trip reference for them, but with everything laid out, we can easily plan what we want to do each day based on locations!
Another recent map I created is for a NYC friend of ours who is heading out to Denver for a quick trip in a few weeks. He loves beer, speakeasies, running, hiking, and great food, so I tailored the map to his tastes, and included some of our favorite Colorado places. While the map is a bit ambitious, I added notes to each location letting him know what to do there and why he should go. He won't have time to hit even half of these spots, but by providing him this map he can easily plan out some afternoons with things to do.
You can create different layers, that you can toggle on and off depending on what you're looking for. I've split this map into DIA, Boulder and Denver, but I could have split it into breweries, restaurants, taco joints, speakeasies etc. There are so many options!
Click around this map to find the places I suggested in Colorado, as well as my notes to our friend:
Plus, you can add your own icons to the locations on the map – I'm in love with the Taco and Beer icons I used!
To create your own map, you can open Google Maps, click on Menu, then Your Places, then Maps. If you haven't created any yet, click "Create Map" at the bottom, otherwise all of you saved maps will be here.
Your view when adding/editing the map is a bit different than the shared version above: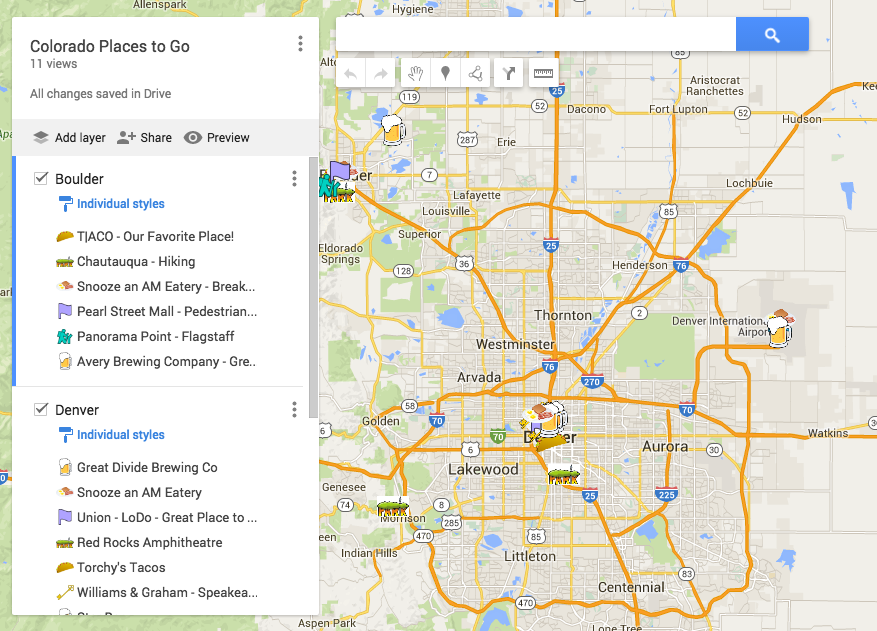 Don't forget to edit each location and add in notes for whomever you're sharing this map with:
It's so easy, and everyone appreciates getting a map that's personalized for them and their travels.