After traveling all day on Christmas, we arrived in Dublin at 8 am (local time). Jonathon and I rented an apartment during our stay that is located on Cow's Lane just behind the Arlington Hotel in Temple Bar – very central!
We arrived at the Arlington hotel around 9 am (which was closed for the holiday – yes, many boutique hotels were closed for the Christmas holiday) so we walked around for about an hour and found there was *nothing* open, so went into a grocery store that also served coffee. And by served coffee, I mean they had a machine that dispensed coffee, ala a hospital (we didn't drink it, just held it to keep warm) as we waited until 11 am, when the sister of the owner of our apartment gave us the keys and showed us the apartment. Why was nothing open? It was Saint Stephen's day, which is just as celebrated as Christmas in Ireland. Here's my very bad, sleepy selfie I took at the store (loved the brick background, and had to stay awake for an hour until we got the keys, so #letmetakeaselfie):
After entering our apartment, we promptly took a 6 hour nap. After traveling all night, sleeping only a few hours (even though we were in first class with seats that fully reclined), and walking around in the rain, we were beat! The nap was perfect, since it is Saint Stephen's Day most places didn't open until after 6 pm, so we didn't miss much. After our nap I attempted to use my straightening iron to fix my frizzy and curly hair, only to find that the adapters we brought with us aren't correct! We brought the two circular pronged adapters, and this apartment requires the three straight pronged adapter.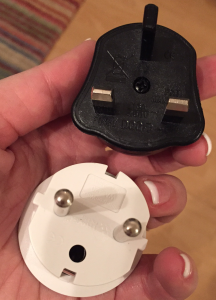 Luckily, Jonathon found one adapter in the apartment that works (the black one), so we shared this one adapter for our 3 phones, 2 laptops, iPad and hair straightener while we were there (what can I say, I'm a tech whore).
It was all fine, especially since my phones are on permanent airplane mode as I are operating strictly on wifi (Jonathon bough the international plan to communicate with his family).
After my hair was as straight as it was going to get (which was more of a wave), I used Twitter and the accounts @LovinDublin and @Publinie to find pubs that were open because websites, Foursquare and Yelp didn't account for the holiday. We walked down to Against the Grain in the rain, which is a brewery that has gluten free options (ironic, huh?). We got there to find out that while they were open, they were not serving food. We grabbed a quick cider (this great one from South Africa) before heading out to find another spot for dinner:
How cute is their barcode?
Luckily a burger place, Bobo's, that we'd put on our list of possible dinner places, was just across the street and open!
We walked in and promptly ordered burgers (no buns) and curry fries. Not quite a 100% Irish dinner for our first meal in Dublin, but considering nothing was open, I'll call it a win. Plus, we had our first of many Guinnesses during this trip.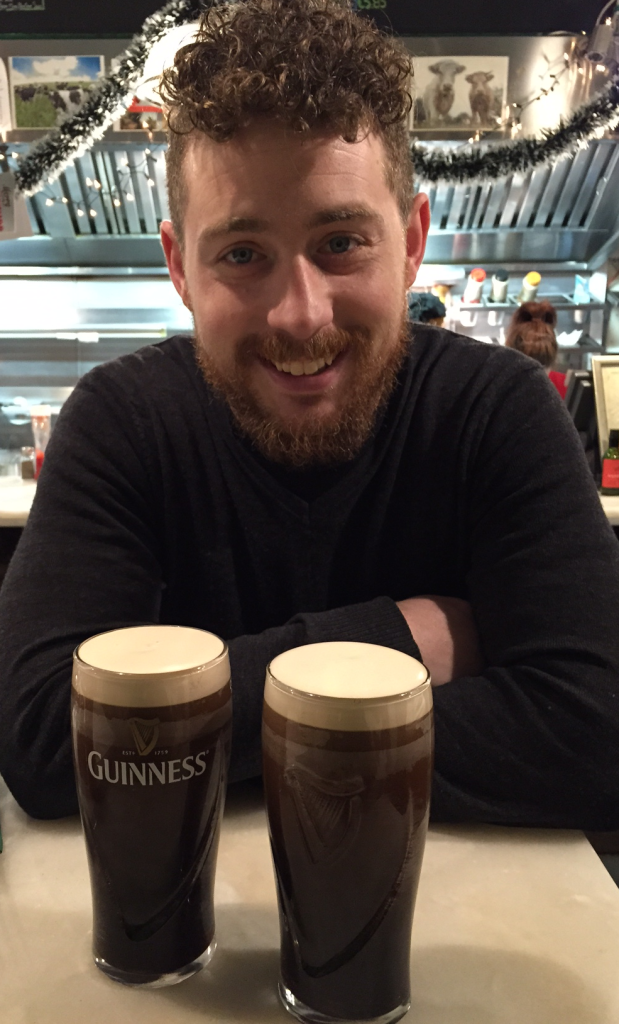 On our way home we stopped into a Tesco (basically a 7-11), where we grabbed some water, cider, and found the crisps that Jonathon had been craving.
They had such a weird shape! Pretty much Cheetos (but tasted better, and yes, I know that we didn't quite follow the Paleo diet while we were in Dublin).
We finished the night sitting in our nice, warm apartment, drinking Irish cider, eating sea salt crisps and watching James Bond as I googled to find what we will be doing on our second day (I was thinking good coffee, and maybe Jameson and Guinness tours! Yup, I'm a tourist).
Cheers!