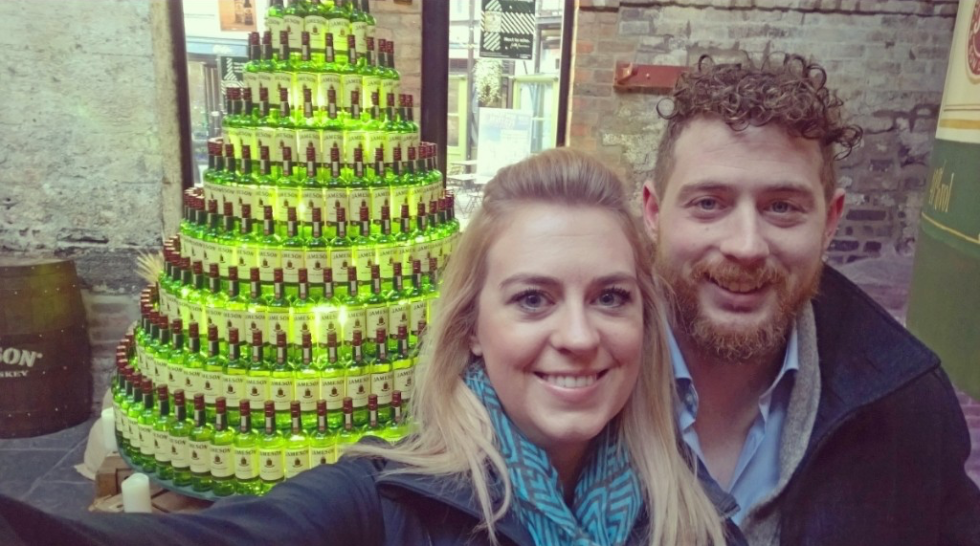 We *loved* our breakfast yesterday, and considered going there again, but after much deliberation on where to go for breakfast, we decided to venture just down the street to Elephant & Castle after inspecting the menu online and learning that they had a meal with potato cakes (perfect to satisfy our American appetites). Unfortunately the cakes were quite small. Delicious, but small. I had the Omelette with Irish cheese and bacon (which is more like ham here). It was a great meal to fill up on before heading over to Jameson.
The walk to Jameson was quick, and warm as we stayed to the North of the river and kept in the sun.
The interior of Jameson was amazing! The floor was glass, which showed the older building that housed the distillery, so it was all original, and architecturally amazing. The rest of the main part of the distillery was still decorated for Christmas, like these great Christmas Tree (we may do this in our house next year)!
Those were just two of many trees I took photos of, but figured you'd get bored with more Jameson Christmas Trees. We then began our tour by sitting down in a tiny amphitheater and watched a movie about the history of the distillery. From there, we started our tour. Unfortunately, they no longer use this space as the distillery, that's down in Cork, so these models were in place to represent what the distillery was like originally.
We learned many facts, like that Jameson had over 20 cats on the premise at all times to keep away the mice and what Jameson looks like at different points in the aging process:
We then got to the *really* fun part of the tour. We had arrived at Jameson too early to enjoy a drink before the tour as their liquor license starts after noon and that's right when our tour started. Finally we were to the tasting area. We were given 3 whiskeys to taste: Jameson, a Scottish Whiskey and an American Whiskey. The American turned out to be Jack Daniels and a few people refused to even taste that whiskey!
From there we walked across the bridge to Brazen Head, which is the OLDEST pub in Ireland. It was a fun and quaint little place and unfortunately we left before the band started playing.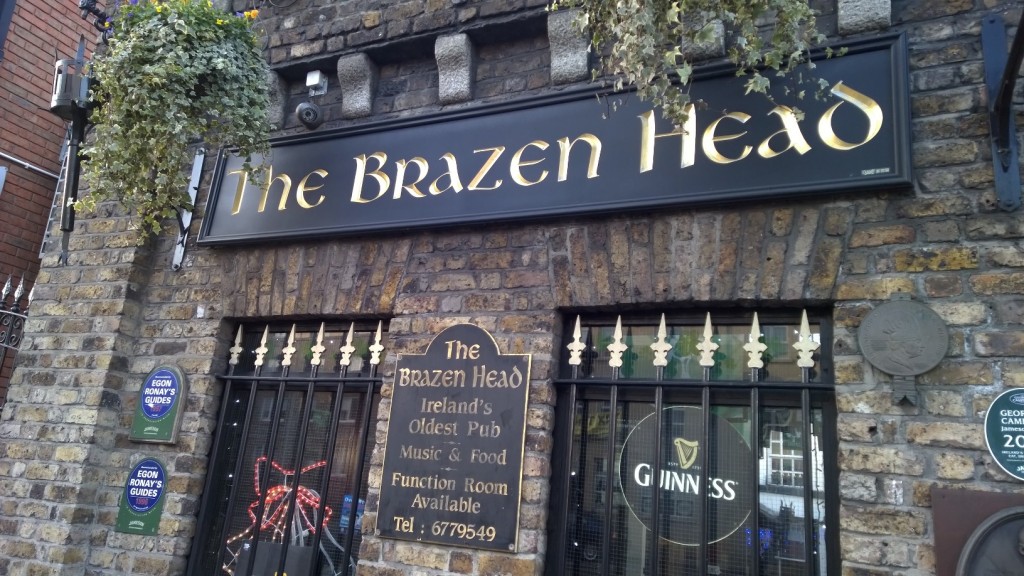 As we were walking home Jonathon and I were discussing how crazy it is that Brazen Head is so many years older than what we have available to us in the States. It was about that time that we came upon the Dublin City Wall, which was built in 1100, and the Christ Church Cathedral. Again, such history!
We had a quick change at apartment as we were about to go have dinner with some of his extended family, and I had to make a good impression!
We had about an hour, so we started walking down Temple Bar and ended up in THE Temple Bar, which had delicious cider on tap. Speaking of, I noticed a few thing about pubs during our trip. The first is that their Ciders were all SO much better than the options we have here in the States. They didn't have *anything* as sweet as Angry Orchard, which made me a very happy girl. Secondly, I'm amazed at the music played at the pubs. It was all old school American songs they play. Yes, there was lots of U2, but also lots of late 80′s, early 90′s etc.
In order to get to Jonathon's Aunt's and Uncle's house, we had to call our first international Uber. Our driver had been a cab driver for 13 years and had recently switched to Uber and MUCH preferred Uber to a cab. He said the clientele is so much different. His riders with Uber have a different kind of respect for him and he isn't having to kick people out at 5 am as they puke or piss in his vehicle.
As we arrived at his Aunt and Uncle's house, I met 2 of his cousins, and one of his cousin's kids. Dinner was great and we spent most of the rest of the night there by the fire that was being fueled by peat moss. They were literally putting mounds of peat into the fireplace to keep us warm. Talk about authentic! We talked about colleges, taxes and police in the States vs in Ireland. It is always great to hear different and international opinions on politics, even if they are from family.
Not a bad third day in Dublin!