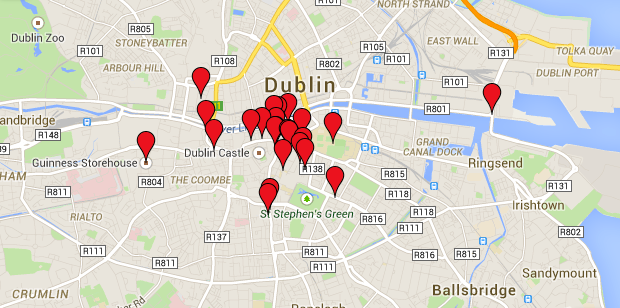 It's taken me awhile to finally get my blog posts from our Dublin, Ireland trip up on my blog as 2015 has been quite a busy year so far! We went to a bunch of great restaurants, fun brewery and distillery tours and got to hang out with Jonathon's family.
I've already blogged about each day of our trip, but figured a map showing each place we went would be useful to others as well! I've been having a lot of fun playing with Google Maps and creating my own maps, and created the map below showing what we did each day of our Dublin adventure.
Clicking on the settings on the left of the map allows you to choose which days you'd like to see, as well as lists where we went on each day.
Want more details about where we went, what we loved and what we didn't? Here's all 5 blog posts with photos and more:
Day 1 in Dublin, Ireland
Day 2 in Dublin, Ireland
Day 3 in Dublin, Ireland
Day 4 in Dublin, Ireland
Day 5 in Dublin, Ireland
I can't wait to go back and explore more of the Ireland, not just Dublin, but I'll have to wait for our next trip!