Back in April, Jonathon and I went back to La Crosse, Wisconsin to visit friends and family. We've been back a few times, but this was the first time we were able to go back since we both started working from home (or wherever).
After landing in Minneapolis, we headed to our favorite place in Saint Paul: The Blue Door for some tater tots, burgers and cider with friends. This is always the first spot we hit when we land in Minnie.
From there we drove our rad rental car to Wisconsin (thanks to Enterprise for hooking us up with a brand new Challenger!).
After grabbing an afternoon coffee and heading to Jon's parent's house to drop off our bags and freshen up, we headed out to a typical midwest bar, with this great welcome:
Best Meal in La Crosse, Wisconsin: The Mint
After a drink with friends and family, we were starving, so we headed to our favorite restaurant in La Crosse: The Mint. Everything here is delicious, from their craft cocktails to their meals. Menus change just about every day depending on what is in season and available locally, so you know you'll get something good here.
This salad was so good, I ordered two of them!
We split a charcuterie board full of local Wisconsin meats with house-made lavash and mustard:
And a bunch of appetizers, including Vindaloo Acorn Squash Ravioli with Coconut sauce, Seared Pork Belly with Creamy Orange Risotto and Duck Confit with Crispy Organic Polenta cakes on top of a White Bean Puree: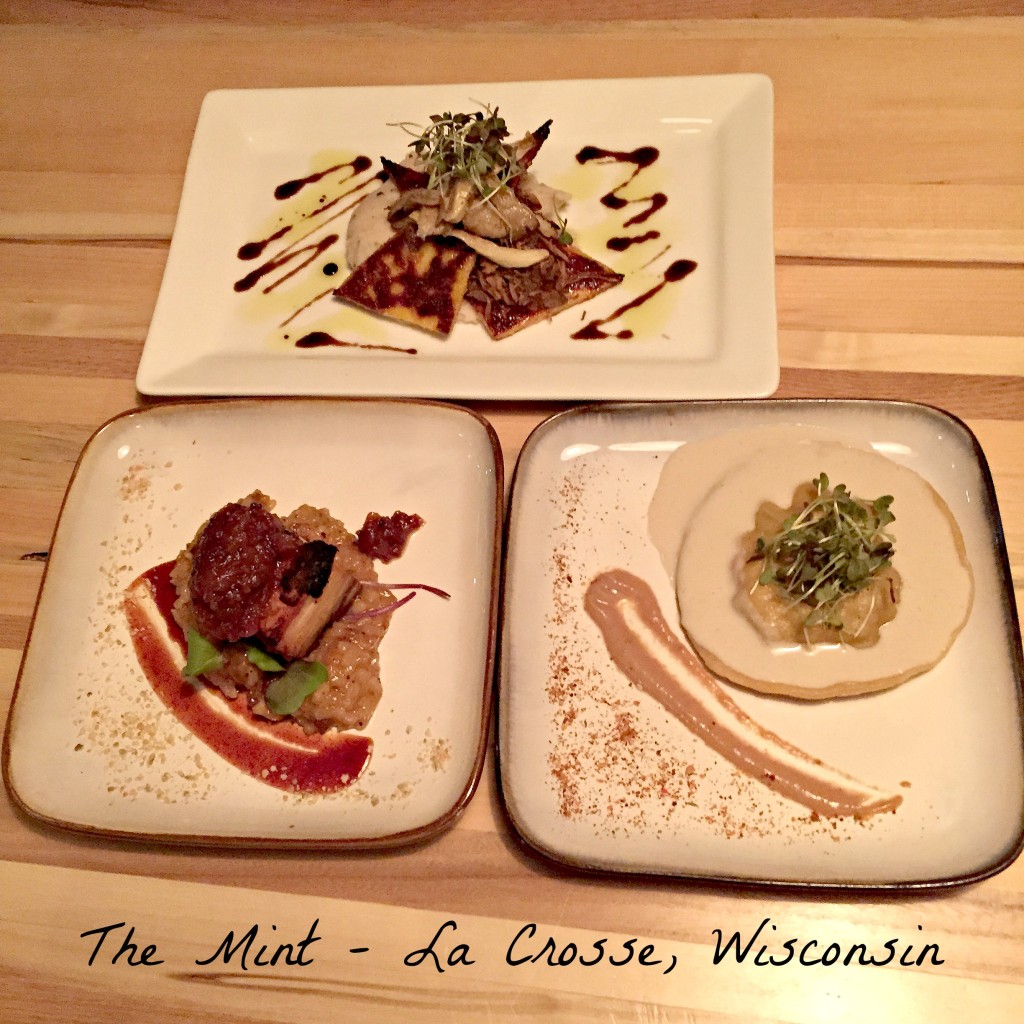 If we had been in town a bit longer, we would have gone back for more it was all so delicious!
You can read my full review on
Breakfast Diner: Rosie's Cafe
The next morning we had a delicious breakfast at local La Crosse diner, Rosie's Cafe. Everything on the menu was delicious and while the place was packed, the wait to get in was minimal. Just be sure you bring cash, they don't accept credit cards!!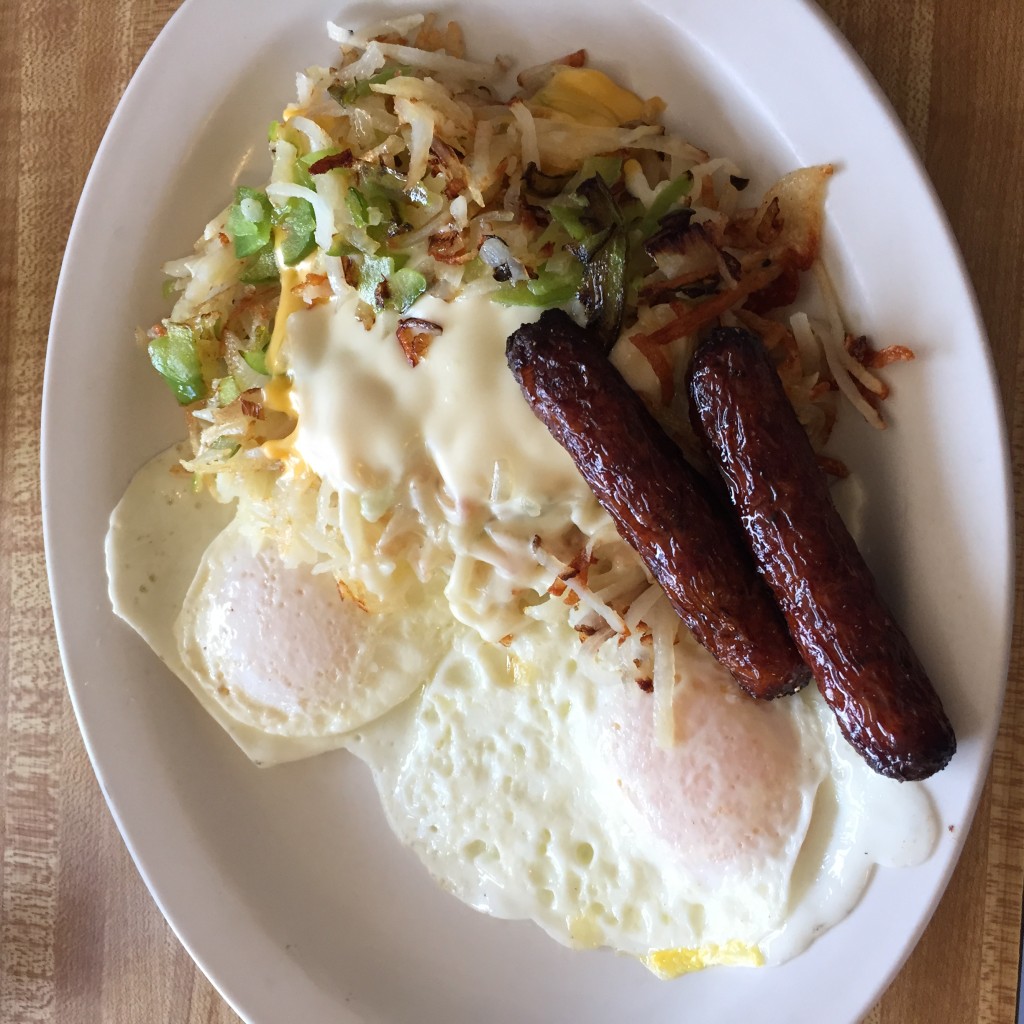 The WORST Meal in La Crosse, Wisconsin: Timmers Bar
We spent the rest of the weekend hanging out with Jon's friends and their families (including this puppy, who is one of my favorites):
Jon's friends suggested we check out this new restaurant that opened up, that was said to be a great place for large parties (we had 4 kids and 6 adults, so that was key). From the minute we walked in the door, we had an awful experience. We were seated immediately, but no one came to give us menus, waters or take our drink order for about 15 minutes.
After placing orders of apps for the table, dinner for the kids and meals for the rest of us, we chatted for awhile and finished our drinks (we were never asked if we wanted more). An hour later, we still didn't have our food, but of course, once we asked it magically started to appear. Everything about it was awful. Half of it was cold (which it shouldn't have been), my salad looked worse than an airplane salad, and NONE of the kids had their meals (but don't worry, all of the adults did). I took one bite and knew I wasn't going to be happy or satisfied, so I didn't eat at all. Jon ate a little, but complained and was able to get our food off our receipt. I have seriously never had such bad food and service in my life.

Jon and I had to go to the grocery store for chips and veggies and dip, because we had eaten so little that night. If Mint had been open, we would have gone there!
Working in La Crosse, Wisconsin
I've gotten used to working from coffee shops, and airports in the past 3+ years I've been working from home, but it's funny how many people still think that it is weird that you can work from anywhere! The cell phone service isn't great for me in La Crosse, so we had to find somewhere with good wifi and cell phone service so I could take my calls on Tuesday morning.
There are a few options in La Crosse, the one we frequent the most is Grounded Coffee which is just downtown. However this trip we decided to try a new coffee shop, and we were blown away!
Root Note is also located downtown, and has a super cute coffee shop, complete with a claw foot bathtub full of gold fish:
They also have one of my new favorites: Lavender Lattes. Not only that, they make their own Lavender simple syrup! The latte was so good, I had to have two of them.
Of course, I also rated them on
!
Since I had a long conference call scheduled, I decide to take it from the car, tethering my laptop off of my cell phone: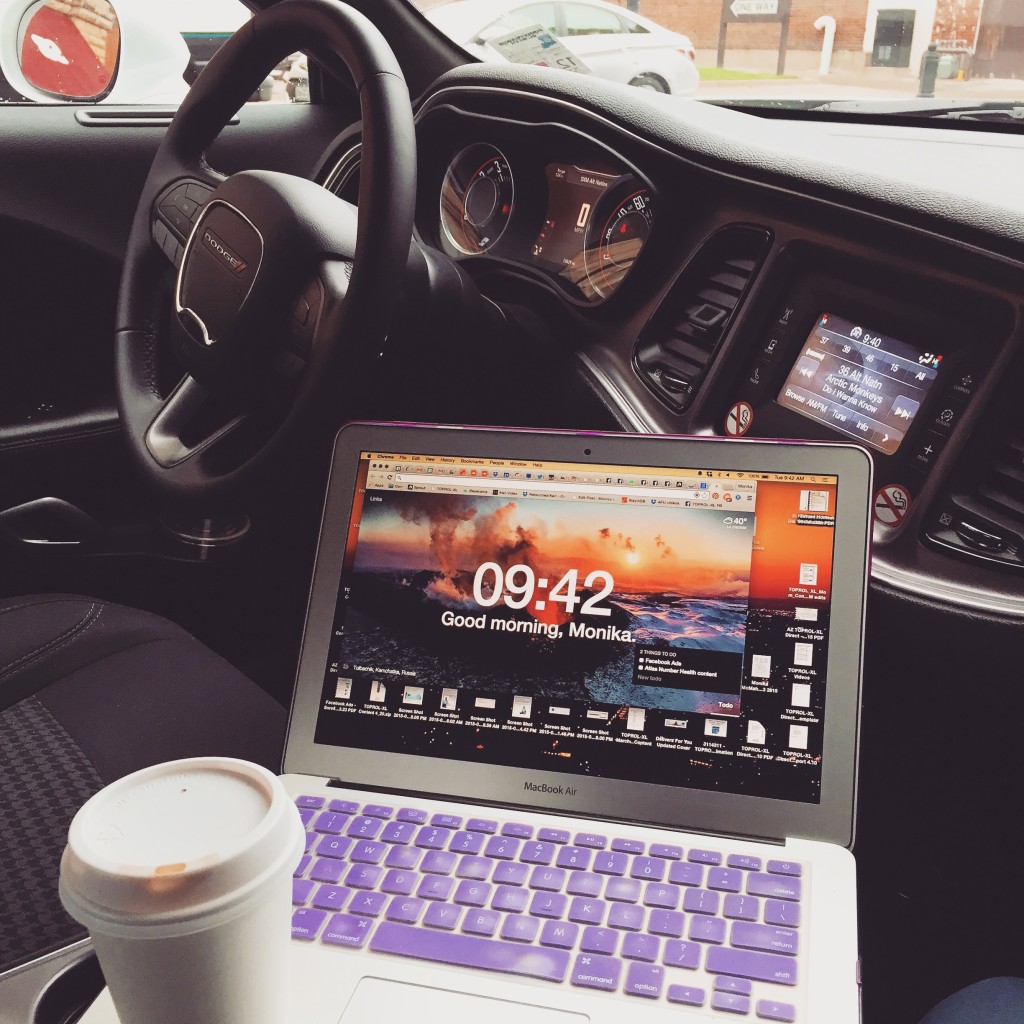 Not the ideal work conditions, but good enough for the hour long call!
All in all it was a great long weekend spent in the midwest. Looking forward to the next time we go back so I can get another meal from The Mint and latte from Root Note!