Until this last year I haven't been that big of a fan of LinkedIn. Of course I had an account (but let's be honest, there aren't many social networks that I don't have an account for) but I had not really invested any time into my profile, or connections until the last year.
Apparently my hard work has paid off! I just got an email saying I have one of the top 5% most viewed LinkedIn profiles for 2012.
That definitely surprised me, and I am sure it is likely just due to the fact that I spent last year connecting with people from the past.
I have to say, Jon has been showing me some great features of LinkedIn recently. I have found myself checking my profile more, updating my connections, reading articles friends have posted and more. On feature of LinkedIn that I wasn't aware of before last month was the "Recently Viewed" list. Did you know that LinkedIn tells you who has last viewed your profile?
Depending on your settings in LinkedIn you can see various sets of information (that you can see from my screenshot above). How do you see who has viewed your profile? It is easy. Click 'Home' at the top of the navigation. Scroll down until you see this on the right hand side:
Click on the "Your profile has been viewed by 8 people in the past 3 days." If your settings do not allow you to view those profiles, you will get a pop-up prompting you to update your settings. After that you will be able to see who stalks your profile!
This feature probably isn't surprising or new to you, but I love seeing who has viewed my profile in the past week.
Today I discovered another cool feature. The LinkedIn Visualization Map. LinkedIn Labs analyzes all of your connections and groups them together colorfully.
Not only that, but when you click on a connection, it shows you all of the contacts you have in common. Here are all my common connections with my #BlogFrogBuddy Vanessa:
I am a visual learner, so seeing my relationships in this map is much easier for me to digest than the other option: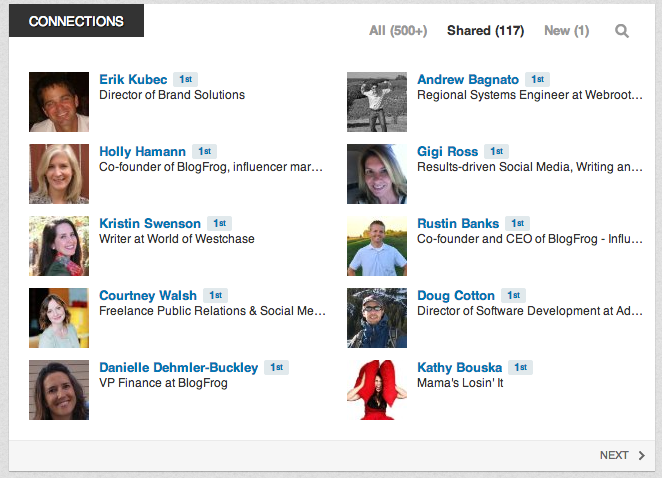 I love seeing who I have in common with whom and what their relationship is.
What other features of LinkedIn am I missing out on?