*Update at the bottom with my final decision on what I kept*
If you follow me on Pinterest, you may have noticed that I have been spending a lot of time pinning to one board in particular:
Not only am I looking forward to those days where I can comfortably wear jeans and a scarf, but I finally joined StitchFix.com. What is Stitch Fix? In their own words:
Stitch Fix is an online personal styling service that ships customers a hand picked selection of clothing and accessories based on their individual style, size, lifestyle and budget.
So how do they know what you want to wear? You have to fill out a survey filled with questions about your style, complete with visual options of 'Do you like this look, or this look?' After you fill everything out, they also ask you for your social networks like Twitter and any style Pinterest boards so they can get a better idea of who you are and what you like. I already had a style board, but I figured it was time to do some updating, so I went to Polyvore and added a TON of styles. My mom told me the next day that she kept seeing things on Pinterest that she thought I would like, and of course I had pinned them all!
Today I finally received my box of goodies. It was like it was my birthday or something when the mailman arrived.
Prior to receiving the box, I logged in to my account and noticed that they had all the items listed that they had shipped me!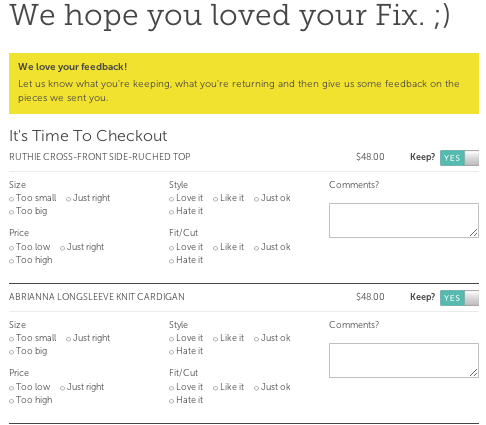 I quickly started googling to see if I could figure out what would be arriving. I was able to locate some items (from other StitchFix users) but that was it. Only 2 of the 3 items were googleable! I guess that just goes to show you how unique these items are and proves you aren't just getting stuff that everyone else has from the Gap or Banana.
So here is what I got:
RD Style – Rhonda Faux Leather Moto Jacket


Yumi – Willhinina Polka Dot Belted Skater Dress


Dylan & Rose – Ruthie Cross-Front Side-Ruched Top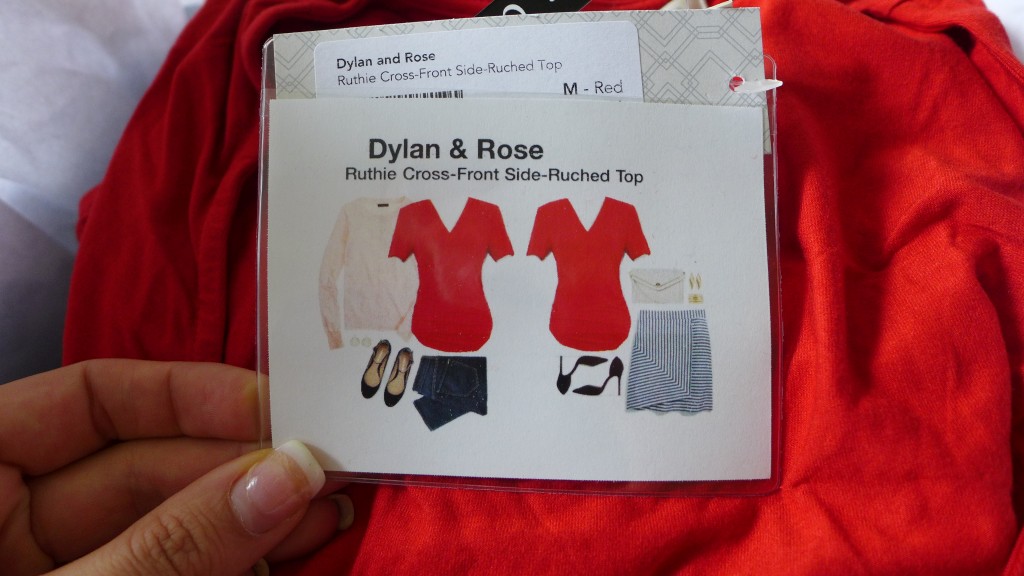 41Hawthorn – Abrianna Longsleeve Knit Cardigan


Sweet Rain – Chadrick Dot Chevron Striped Blouse

What I am returning:
I'll start with the items that just didn't do it for me. First, red is just not my color. The Dylan & Rose top looked like it had the potential to be super cute with the ruched sides, but I didn't like how it was short on the sides and a little longer in the front. I have wide hips and this made them look even bigger IMO:
The faux leather jacket had potential, but I'm just not sure I'm cut out to for a leather jacket:
At first glance I really liked the Sweet Rain blouse. It looked like the perfect blouse to wear with black pants or skirt to a nice dinner. I also really like the sleeves and the fact that it could be worn long or buttoned up. Then I tried it on. My boobs are too big for this style of shirt. Since it isn't clingy at all it just hangs straight down from my boobs, but it is also too tight around my chest so any movement form my arms and it rises up or looks like the button is going to pop up.


My Faves, aka what I am keeping:
Of course I loved the cardigan. It is similar to others I have, but I love the color of this one, in fact it kind of matches my hair! The length is also nice:
Cannot make up my mind:
I never would have thought that this dress would be an item I would consider, hence the fun of the Stitch Fix box. The material felt a bit thick at first and I thought it was going to be too tight on my arms, but it is really stretchy and breathable. I wore this dress around the apartment for at least an hour after I tried it on. Now to find the perfect place to wear this: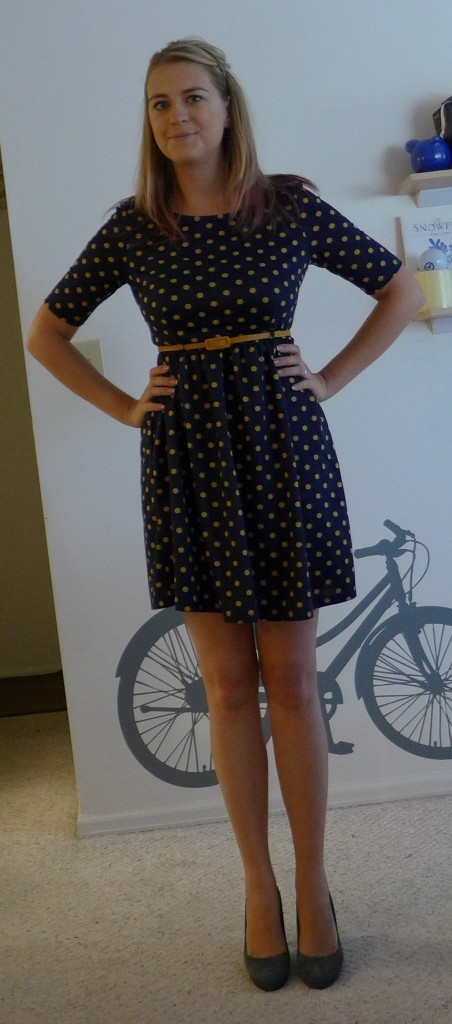 Plus, the belt is just so darn cute!
What is the cost?
Well it is $20 to get the box. If you keep anything, that $20 goes towards the purchase of that item. The total for all the items in this box was $300.
Big question: Do I keep the dress? Let me know in the comments below.
So thank you to everyone that Tweeted, Facebooked and commented below on what to do about the dress. I ended up keeping it! I haven't worn it yet, but can't wait to!
Another random update, my friend Joni ended up coming over before I shipped the clothes back to Stitch Fix, tried on the leather jacket and ended up keeping it for herself! She looks great in it also:
And, what are you waiting for? Go join StitchFix for yourself!