Recently, I've stopped creating Google Docs of links to blog posts around certain topics and started to use Pinterest to keep all of the information in one spot. You can see my most recent post on How to Ditch the Shampoo and the Pinterest board there.
Rather than link to the board, I figured it would be better to visually feature it. I was going to take a screenshot, until I remembered that Pinterest now allows for people to not only embed Pin It buttons, but also Pinterest profiles, individual pins and Pinterest boards!


Doesn't that look much better than 5 or 6 links? Or just a link to the Pinterest Board? Not only can you get to the board, but you can see all the pins which make it easier for you to decide if you want to click over to the board or not. Plus, I don't know about you, but I am a visual thinker/learner, so if you put images in front of me rather than text, I am more likely to click the image/link.
So, how do you embed your own Pinterest board. It is pretty simple. Go to the Pinterest Button and Widget Builder, and enter the URL of the board you wish to embed. I played around with the advanced options a bit until I got the widget and images to be the size I wanted.
After you get the correct sizes, copy the code below the preview and paste it into your blog post. Now, here is where I went wrong. I thought that was all I had to do and was ignoring the JavaScript section underneath the code.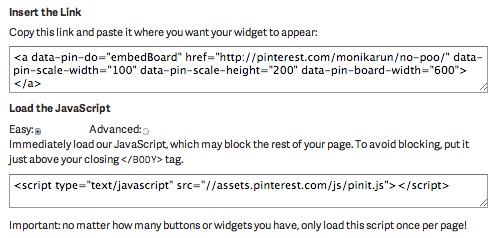 Of course the widget wasn't loading. I then copied the JavaScript and added it to my sidebar. Viola! That was all I needed to make the widget appear.
Best part? That JavaScript makes it so that whenever I add a new pin to the board, it is added to the widget. It's like magic!
Did I mention that you can embed ANY board? Doesn't have to be one you own! I'm sure there will be many more blog posts on here that include embedded Pinterest boards.