Earlier today Twitter released a new feature for their Tweetdeck users: Custom Timelines.
What exactly is it? It can be whatever you want! Instead of creating a list of people to follow, you can curate a list of tweets on a given subject and instead of favoriting tweets after following a conference hashtag, you can add them a list to come back to later, or embed on your site. You can also curate a list of tweeted testimonials for use on an ecommerce site instead of embedding each tweet separately. I also like the idea of using it as a favorites list, but now you can separate the favorites out by 'funny tweets', 'read later' tweets and more because right now my favorites are ALL over the board!
You can tell that this announcement got me quite excited about all of the possibilities! Yes, this isn't really new as Storify has a similar offering, but truth be told, I never quite got into Storify. I would get tweets letting me know I was mentioned in someone's story, but when I went to check it out, I always just felt like the timeline looked a bit junky and I wasn't able to follow. I also didn't give it much of a chance (sorry, just being truthful) so take my opinion with a grain of salt.
So, how do you get started curating your list of tweets? Right now, you *must* be a Tweetdeck user. If you are, next time you open the Chrome app, or go to Tweetdeck.com to open your feeds, you should see this prompt:
After that, it is pretty easy to get started. On the left column you should see this little guy:
Once clicked, you get this pop up to add a column which then leads to this column that you can both name and add a description to the list. I created a list of people who have tweeted their endorsements for Noiselace Earplug Necklaces:
Added a name and description:
After that you just have to drag tweets you want into this column: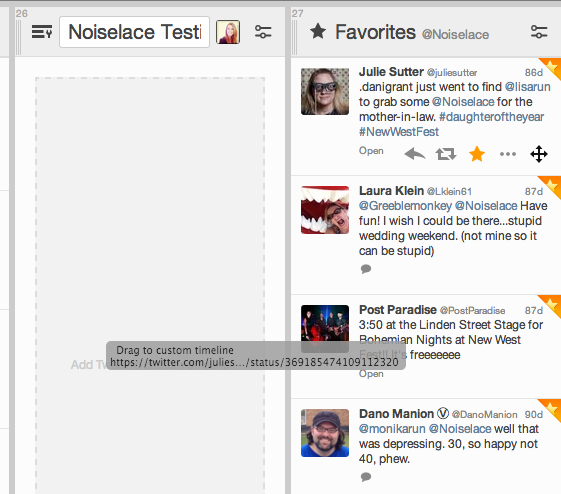 That's it! You created a Custom Twitter list!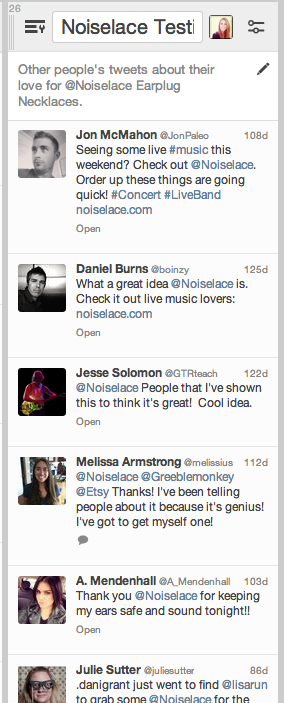 Ok, so that isn't really all of the steps, just the basics. This is a brand new feature, so I am sure they are still working out all of the kinks, but I did run into a few issues initially.
First, when trying to find tweets to add, I had issues using Tweetdeck's search function. I couldn't go back more than 8 days searching for the word 'noiselace' which didn't produce many tweets. So how do you get around this? I searched on Twitter.com, favorited the tweets I wanted to include, then went back to Tweetdeck, added the column of favorites from @Noiselace and dragged them over from there. Gotta be crafty with these kinds of things!
When adding tweets to a list, be aware that they will show up in that order that you added them, NOT when they were tweeted. I actually think this is a great feature so you can help guide readers a bit more than just by time. However you cannot re-order the list after you create it (at least not yet, and not that I was able to find) so the order you add them in is the order they will appear.
After you create your list, what do you do with it? Well you can easily embed it, tweet about it or share the URL! Just click the share button to view these options:
You can't currently follow a curated list, but again, new product, I'm sure that will happen eventually! Here's my embedded list. I love that users can favorite, reply and retweet directly from this list. The joys of new technology, keeps the tweets alive!
Noiselace Testimonials
So, what do you think? Will you be using this new Twitter feature? Honestly, I am still dreaming up ways on how I will be able to use this every day in both my personal life and at work. Let me know in the comments what lists you're dreaming up and will be creating!