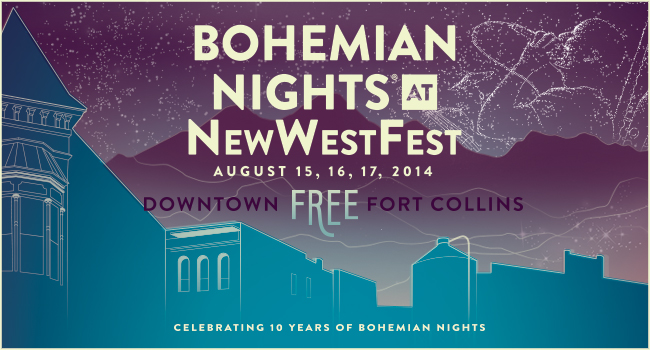 This past weekend was New West Fest which was started to celebrate the birthday of Fort Collins. This year Fort Collins turned 150! Lookin' good for 150 FoCo! It was also the 10th annual Bohemian Nights at New West Fest, and boy was it fun!
Upgrades
I love the upgrades that Bohemian Nights made including using the Mountain stage for the main stage on Friday and including a secondary stage at the Library for even more rock to start the weekend off right.
In addition, the stage backgrounds were amazing. Think Starry Night over Horsetooth. And when the lights came out, it made it even more magical.
Friday
Unfortunately I got to Old Town on Friday night after work just in time to hear Shatterproof leaving the stage and rushed over to the Library stage just in time to watch Slow Caves exiting. Luckily I was there for all of Post Paradise, The Patti Fiasco and Big Head Todd and the Monsters. The sound was amazing for all of the bands on both the main stage and the simulcast at the Library.
Saturday
Saturday I was determined to not miss any of the bands I wanted to see and got downtown early. Yikes it was hot, but I saw all of the bands from my list: Wasteland Hop, Qbala, Fierce Bad Rabbit, In The Whale, The Yawpers plus a bit of Mama Lenny and the Remedy and Pat Benatar.
Sunday
On Sunday I was back at it with my sister-in-law, watching The Wild After, Pandas and People, Wiredogs, Devotchka and The Widows Bane. I did leave a bit early because I needed to get back to Boulder for some down time before work again early on Monday.
Little Rio Grande – Homebase
My 'homebase' (and my families) during Bohemian Nights was the 'Little Rio' that was stationed on Walnut. Not only did they have Rio margs but they also served nachos and had tables, chairs, umbrellas (aka shade from the hot, hot, hot, hot, sun) and a fountain. If I wasn't at a stage watching music, I could be found there with my parents.
Green Room!
On Sunday I was also lucky enough to be the recipient of a green room pass:
However I only used it for the air conditioned bathroom (twice) because in order to access the green room you needed to be escorted by the band, and Wiredogs were too busy playing, and at their Meet and Greet to take me to the green room (which is ok).
Meet and Greets
Speaking of Meet and Greets, many bands did the Meet and Greets this year including Wiredogs, Pandas and People, The Wild After and Shatterproof who also did an acoustic set (which I was able to catch on Friday):
Videos
Didn't make it? Want to see what you missed? Here are a few of the videos I captured at Bohemian Nights 2014 #FoCoMusic:

My two requests for next year are:
More misters and shade to help everyone cool off.
Better cell phone service!
I wasn't able to tweet or instagram as much as I would have liked, and texting my parents was near impossible (hence the 'homebase' at the Little Rio). Maybe next year they can bring in some WiFi or additional cell towers for all of us attendees? Wishful thinking, but thought I'd put that out there!
Bohemian Nights 2015
I can't wait to see what the 11th annual Bohemian Nights has to hold (and I hope they keep the backdrops for the stages for next year as well). Plus, Bohemian Nights made my day today by sending me the following tweet:
@monikarun We loved your festival tweets & would like to offer you a press pass in 2015 to get an even closer look at the festival!

— Bohemian Nights (@BohemianNights) August 19, 2014
Look forward to my tweets, pictures and photos next year because it looks like I'll have a bit more access at Bohemian Nights in 2015!