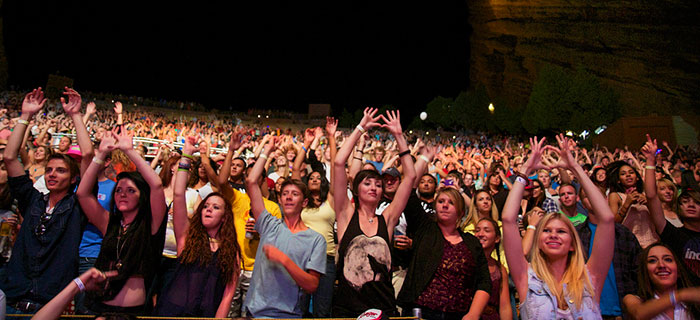 We can all agree on this – Colorado is a great place for music lovers, especially during the summer. Between Red Rocks, the Greeley Stampede, Fiddlers Green and the events that take place in every mountain town and local city each weekend, every single music lover can find something to fulfill their musical desires each weekend this summer.
Tomorrow I'm talking on a panel at Boulder Startup Week about planning your summer Colorado adventure and my expertise will be music and more specifically, music festivals happening in Colorado this summer. So, what makes me qualified to talk on such a subject when I'm not a musician, or working in the industry? I may not have worked in the industry, but I've been a long time supporter of these local bands and festivals and have attended 13 of the 15 festivals listed below – most of which I've attended many years, or decades! Also, beyond music festivals, I love live music and in 2012 alone, I attended more than 230 concerts that year, which means I've seen thousands of bands in my lifetime of going to concerts.
Back to Colorado though – this really is a great state to see so much live music. We have everything you'd want from rock to country to bluegrass to jazz to everything in between, most of which happening every week! Red Rocks is definitely a place every person needs to visit, but I'd also recommend attending one of the free festivals in Boulder, Fort Collins and downtown Denver to get a feel for what this great state really has to offer.
These are just a few of both the biggest, and my favorite, festivals that are happening this summer that will satisfy each and every music lover's desires.

Denver Day of Rock
– Denver – Friday, May 23rd – Saturday, May 24th – $Free! –
This year Denver Day of Rock decided to add another night of rock on Friday night with The Congress and The Wallflowers. On Saturday the rock continues with local favorites Post Paradise, Fierce Bad Rabbit and national acts The Hold Steady, Plain White T's and dozens more. This event takes place all around 16th street mall and is perfect for kids young and old.
Boulder Creek Fest
– Boulder – May 24th – May 26th – $Free! –
What better way to bring in Memorial Day than with a festival on the creek? Boulder Creek Festival has four stages, a carnival, food, beer and a rubber duck race!
Film on the Rocks
– Red Rocks – All Summer Long – $12 –
You really can't go wrong with any of the shows at Red Rocks this year or ever, but a great way to experience the venue, some local music and a movie is to head up during one of the many Film on the Rocks events. They haven't released the 2014 schedule yet, but in the past they've sold out when showing movies like The Goonies, Hunger Games, Princess Bride and more. The best part is that they let local bands open up for the movie, fulfilling their lifelong dreams of playing one of the most magical venues in the world.
City Party Jazz
– Denver – Sundays starting June 3rd – $Free! –
Want to experience jazz and more live music outside in the law, rain or shine? Come to City Park Jazz on Sundays this summer to get your fill.
People's Fair
– Denver – June 7th – June 8th – $Free! –
The People's Fair takes place in downtown Denver near the Capital building and features not only live music, but local art, food, booze and entertainment. They haven't released their lineup for this summer yet, but this is a great stop for every one to hit this summer to see what Denver has to offer.
Band on the Bricks
– Boulder – June 11th – August 13th – $Free! –
Don't want to leave Boulder? You don't have to, just head down to Pearl Street every Wednesday night from June 11th through August 13th and enjoy some great entertainment, for free! Bands this year include The Samples, Hazel Miller Band, The Goonies and more. See the full line up and get more details on the Boulder Downtown website.
Taste of Fort Collins
– Fort Collins – June 13th – June 15th – $10/day or weekend passes
Taste of Fort Collins is expanding this year to include music on Friday night and two stages on Saturday and Sunday, along with showcasing some of the best food and brew that Fort Collins has to offer. Local bands playing this year include Post Paradise, Claymore Disco, Vices I Admire, Wasteland Hop and The Epilogues, while the headliners on Saturday and Sunday are Collective Soul and American Authors.
LoHi Music Festival
– Denver – June 14th – $Free! –
You may start to see a theme here as I have nothing but fond memories of the LoHi Music Festival as that was the show that brought LeVar and me together over 3 years ago! While in the past LoHi has focused more on the local acts, this year they've expanded and have The Pimps of Joytime and moe. headlining the festival.
Telluride Bluegrass
– Telluride – June 19th – June 22nd – $70-$200 SOLD OUT –
Telluride may be sold out already, but there are still tickets to be bought on Craigslist to see Steve Winwood, Leftover Salmon, Nickel Creek and Brandi Carlile. I've yet to attend a festival at this great city, but have heard nothing but amazing things from my parents who have gone the last few years. I can't imagine a better festival in a more quintessential mountain town than Telluride. If you can find a ticket, I recommend you go.
Westword Music Showcase
– Denver – Saturday, June 21st – $35-$75 –
The Westword Music Showcase is a daylong event that takes place in Denver's Golden Triangle around Broadway and Lincoln and this year features headliners Diplo and 2 Chainz. If you buy your tickets before Wednesday, May 14th you can get VIP for only $50 which gets you in front of general admission on the main stage and gets you 2 free drinks. Trust me, VIP is the way to go at this event. The local acts haven't been announced yet, but if you want to get a taste of great local talent, this is a great event for you.
Greeley Stampede
– Greeley – June 26th – July 6th – $30-$100 –
If Country music is more your style, you'll want to hit up the Greeley Stampede, I promise the smell isn't that bad (you'll get used to it quickly). Over a week of rodeos, fairs, art shows and music. Jake Owen takes the stage on Friday, June 27th and Martina McBride plays on the Fourth of July, just to name a few of the many bands they have this year.
Big Gig
– Englewood – Saturday, July 19th – $15-$50 –
This event holds a soft spot in my heart as it was one of the first festivals I went to in High School that got me hooked into seeing live music! Headliners this year include Panic! At The Disco, Twenty One Pilots, American Authors and more. This year they moved Big Gig back to Fiddlers Green from Red Rocks, which I am thrilled about since it is hard to have 2 stages at Red Rocks. While it is put on by Clear Channel owned 93.3 KTCL, they always have a side stage dedicated to local music and while they haven't lined up the bands yet, I'm sure they will be great.
Underground Music Showcase
– Denver – July 24th – July 27th – $50 –
The Underground Music Showcase has been going strong for 13 years and isn't slowing down this year. For just $50 you get access to over 20 venues that housed over 1,700 artists last year in the Baker Neighborhood of Denver. Some of the big names this year include Real Estate, Blonde Redhead, Astronautalis, The Noise FM as well as hundreds of local artists representing this great Mile High state. Buy your tickets now as they jump up to $75 the day UMS starts.
Warped Tour
– Denver – Sunday, August 2nd – $60 –
Another festival that created many memories for me is Warped Tour, and I'm excited for them to come back to Mile High this year, even though I always leave feeling really old. Some highlights of bands this year include Yellowcard, Mayday Parade, Cute is What We Aim For, Air Dubai and many other pop/punk bands that you would imagine would be on Warped Tour.
New West Fest – Bohemian Nights
– Fort Collins – August 15th – August 17th – $Free! –
New West Fest has been happening in Fort Collins for years, but it wasn't a big music festival until Bohemian Foundation got involved and added the free music element to the festivities 10 years ago. They haven't announced the lineup for 2014 yet, but in the past they've hosted Ben Harper, B-52′s, Earth Wind and Fire, Melissa Ethridge plus a dozen other stages full of local bands. Keep an eye out for this lineup and take a trip up to Fort Collins to see what they have to offer up North.
Reggae on the Rocks
– Morrison – August 23rd – $63 –
If you like Reggae even in the slightest, you'll enjoy seeing the best perform at Red Rocks on August 23rd. Reggae on the Rocks has been going on since 1988 and continues to attract the best and newest reggae acts around each year. This year headliners include Rebelution, Iration, The English Beat, Judge Roughneck and more to be announced.
Tour de Fat
– Fort Collins – August 30th – $Free! –
– Denver – September 6th – $Free! –
While Tour de Fat is more of a bike parade and excuse to dress up and drink good beer, they also have live music! Bands for the revival portion of Tour de Fat haven't been announced yet, but they are sure to impress.
Riot Fest
– Denver – September 12th – September 14th – $TBD –
Last year was the first time Riot Fest came to Denver, and luckily they decided to come back again this year! The location and lineup has yet to be released, but if the Toronto lineup is any indication, Billy Talent, Rise Against, Brand New and Awolnation just to name a few, we are in for another great year. Stay tuned for more details on this one, you won't regret it!
Telluride Blues & Brews
– Telluride – September 12th – September 14th – $185 –
Another great mountain festival is Telluride Blues and Brews. While tickets are well on their way to selling out, the lineup has not yet been announced, but I'm sure these 2 stages will have a killer lineup. Past years headliners included The Black Crowes, John Hiatt, Phil Lesh, Willie Nelson, and The Flaming Lips, just to name a few.
If you're in Boulder tomorrow, May 12th at 3 – 4 pm, come by and see my talk on this subject at Trident Coffee Shop. Ask me your questions and maybe we will go to a festival together this summer! I love meeting people who love music and am always looking for new concert buddies!