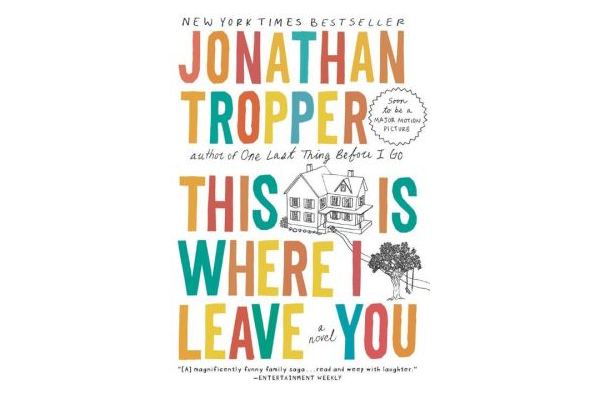 One of my favorite books from the last few years is This is Where I Leave You by Jonathan Tropper.
I've always been a big reader and growing up I was the kid who would bring a book to the kitchen table and bought a book light so I could read in the car to and from wherever we were going. I just couldn't stop reading and the minute I ended a book I had to start another one. Unfortunately these days I don't get to read as much as I'd like, but when I do take a relaxing beach vacation, I can get through 5 books or more in a week!
Since I don't get to read as much anymore, I rely on friends and especially my mom to recommend books to me. Luckily my mom and I have the same taste in books, and it keeps it a bit cheaper for me to continue with my reading obsession when I share with her. She was the one who introduced me to Jonathan Tropper, who is now one of my favorite authors.
Seriously, I even pre-ordered his last book and added the (midnight) date to my calendar so I could start reading ASAP!
I've been reading his books for the last 4 years, and while his descriptive writing style was what initially drew me to him, how he used social media made me like him even more. He retweeted me once (and frankly not even one of my better tweets):
@Jtropper how many times when traveling do you get asked about your iPad? It never stops, and all I wanted to do was read your books :-/

— Monika McMahon (@monikarun) July 8, 2010
But more than that, he has taken the time to Direct Message me on multiple occasions thanking me for my tweets recommending his books:
@cowgirlbarbie @CinnaminJade and @lisarun and I have been reading @Jtropper books -they're all good, not a bad one yet! http://bit.ly/9sSZyn

— Monika McMahon (@monikarun) May 19, 2010
And once he even DM'd me to give me some recommendations on authors to check out because I asked people for new book recommendations. Talk about going above and beyond!
I'm obviously a sucker for social media and a good book, and when you add in an author like Jonathan Tropper, I'm in heaven.
But back to this trailer. The first book of Tropper's that I read was This is Where I Leave You about a middle aged guy going through a mid-life crisis when his dad dies bringing together his misfit family forced to sit shiva. Hilarity and honesty ensue but I won't give anything away in this post.
When I heard they were making it into a movie, I was immediately sold. Then they released the actors: Jason Bateman, Tina Fey, Adam Driver, Connie Britton, Jane Fonda and this is only the first half of the bill! This is Where I Leave You comes out September 12 and while I tend to pick concerts over movies, you can be sure this is one movie I will be sure to see in the theaters.
Watch the trailer and tell me you won't be there with me on September 12:

I'm off to re-read This is Where I Leave You before the movie comes out. Leave me other book recommendations in the comments below!