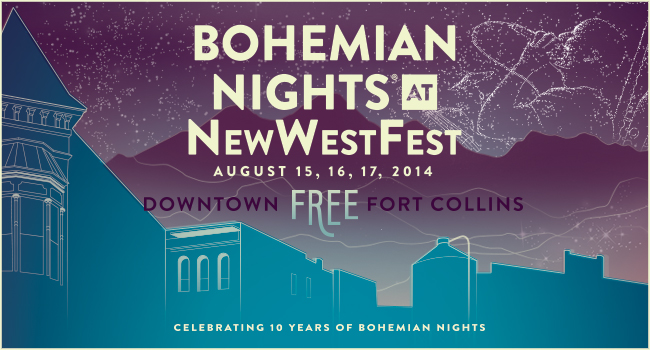 I'm excited for yet another year of Bohemian Nights at New West Fest – and it's only a day away! This three day event starts on Friday, August 15th and rocks straight on through August 17th.
Bohemian Nights is always a favorite Fort Collins festival of mine as they always have a few stages of local bands, in addition to some national headliners, and the lineup this year is just as awesome. Included in the lineup are my faves (obvi) Wiredogs! I'm excited to see my brother, Stefan, and his wife Madeline. This festival is just like a family reunion, but with good music!
Monika's List of Recommended Bands
Friday
Slow Caves
Shatterproof
Post Paradise
Big Head Todd and the Monsters
Saturday
Wasteland Hop
Qbala
Fierce Bad Rabbit
In The Whale
Yawpers
Sunday
The Wild After
Pandas and People
Wiredogs
Devotchka
The Widows Bane
You Me and Apollo

We've also added a FanPlan schedule for Bohemian Nights so you can find the upcoming bands and tweet with ease during the festival – without having to download an app and even if you have a Windows phone (like I do) since it is a website! Also, did you know that there is a Meet and Greet spot at Bohemian this year? There is and it's included in our FanPlan lineup so you won't miss meeting your favorite local bands.
One of my favorite moments from Bohemian Nights over the past few years is Tickle Me Pink performing Madeline on the main stage at Mountain Avenue:

Official Bohemian Nights Hashtag #FoCoMusic
While I hope for good weather this year, I'm excited at all of the amazing bands performing. Who are you looking forward to seeing this weekend? Tweet me (@MonikaRun) with your favorites, and be sure to use the official hashtag, #FoCoMusic!!
Be sure to bookmark FanPlan.info/Bohemian to plan for your Bohemian Nights Festival schedule!