You've already read my Riot Fest highlights of bands and the event, but now that I've had some time to recover (and sleep!), I've also spent some time thinking about Riot Fest 2015 compared to the past two years and what I loved and disliked about this festival. Here's my opinions, and thoughts about how the event was run this year, including the new location.
Third Time's a Charm
I've been skeptical of the location of Riot Fest from the beginning. Byers? I'd never heard of it before Riot Fest announced, and yet, it was a great location! Yes, it was the middle of nowhere, but that made it all part of the adventure.
Year two brought Riot Fest back to the heart of Denver and was in the parking lot of Mile High Stadium. I assumed that it would be similar to Warped Tour, which has been held in the same parking lot for years, but I loved what Riot Fest did to transform the place and make it their own – complete with hay bales!
However with Riot Fest being held at the National Western Complex, I think they've finally found their home in Denver (or at least, I'm hopeful they have). This year combined the convenience of Mile High Stadium, with the rustic feel of Byers, and added the indoor stadium that allowed for somewhere to sit and cool off (or hide from the rain, which didn't happen this year, but shut down the first year of Riot Fest).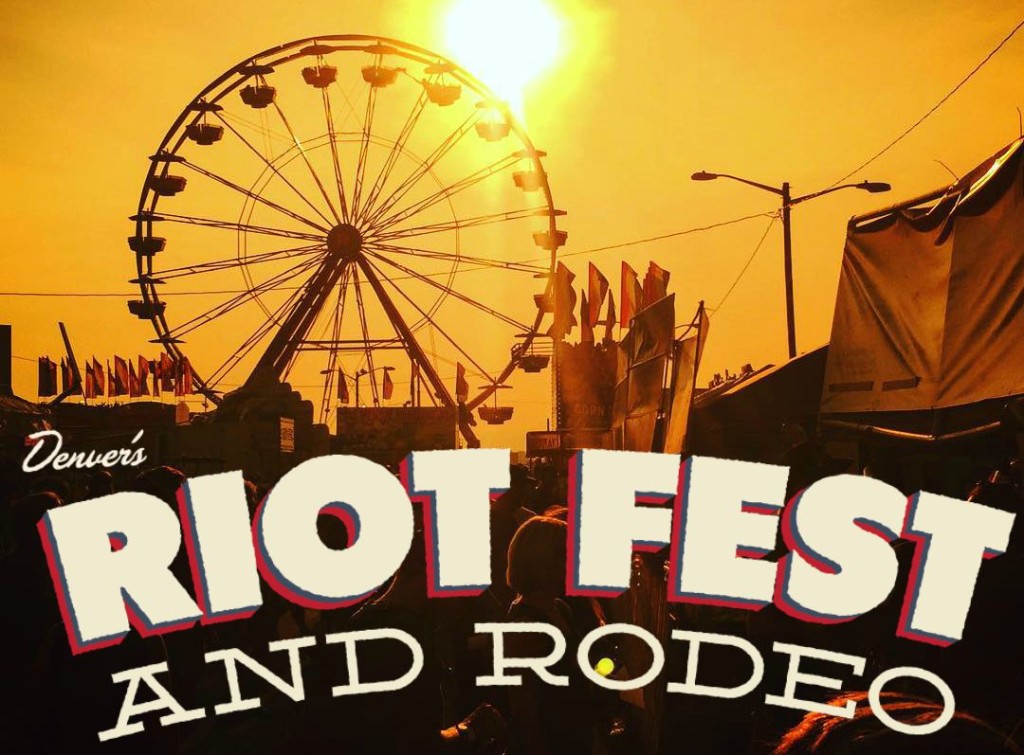 Working Out The Kinks
Sure, I think they still have some kinks to work out at this location, but Riot Fest has already proved to listen to any criticisms and works with everyone to help make the event both safe, and fun.
Here's a few of my ideas of what would make next year even more enjoyable:
Better Viewing for VIP
While I appreciated VIP (and will buy one again next year), I do wish that the standing areas were a bit closer to the stages. The VIP1 area was in the back, behind the sound booths of both front stages. VIP2 was stage right of both of the beack stages, making it hard to see what was happening on the far stage.
Get Rid of Super VIP
There was a Super VIP area that was closest to the stage, but this huge area only ever had 10 people in it! I don't think that many people or corporations take advantage of the Super VIP in Colorado, so I hope they get rid of it next year.
More Reliable Bathrooms
One of the perks of VIP was private, air-conditioned bathrooms. Unfortunately the AC didn't work on the first day, and by the last there was no toilet paper in one and the other was shut down due to an overflowing toilet. Luckily there were still port-a-potties available in VIP and they were MUCH better than the normal bathrooms – so I was still very grateful.
More Places to Sit!
VIP had some picnic tables, and additional couches, however they were often full so the rest of us would sit on the ground. The best place to sit was inside near the Radicals stage, which was also out of the sun, but that doesn't help if you want to listen to the other bands! Hopefully next year they provide more options for everyone, not just those of us in VIP. I LOVED the hay bales they had at Mile High – maybe they can bring those back again next year!
Better Shade Options for All
As I said above, VIP had some options for shade, but not enough. I do love that there is the whole indoor stage that provides shade for everyone, but with the 90+ degree heat, some more shade would be appreciated!
More Female Staff at the Doors
When entering the Complex, every bag was searched and person frisked. However, ONLY females were allowed to frisk females, which caused line confusion and major backups as we all tried to enter at the same time.
Different Stage Names
Every stage started with an R, and I kept getting them confused! Roots, Rock, Riot, Rebel, and Radicals. I wish they had some other names that made it a bit easier to remember the name/location. But maybe I was the only one that had that issue.
Charging Stations
VIP was supposed to have charging stations available to them, however I think I only found one throughout the whole area. I always have an external charger, so I was fine the whole festival, and my phone never died! It helps when you turn off LTE data and push notifications! #protip
WIFI!
Speaking of battery life, I'd love if there was WIFI available for those of us attending! Would help with all of those spontaneous social media updates.
More Gravel, Less Rocks
I have no idea if Riot Fest has any say over the ground of the stages, but it would be great if there was more gravel than big rocks that are easy to trip on. Maybe some hay like they had on year two?
What I LOVED About Riot Fest 2015
While I'm being nit-picky about some of the things I hope Riot Fest will improve for next year, I had a fantastic time at the Rodeo and hope they keep it at the Complex for years to come!
Here's my list of things that were GREAT at Riot Fest and Rodeo 2015:
Staff!
I had no issues with any of the staff, other than there not being enough females to pat down the women as we entered the stadium. The ones that I encountered all seemed happy to be there, were helpful when asked questions and most of all, worked to keep everyone safe.
The Whole Experience
Not only does Riot Fest book some great bands, but they provide the whole experience, down to the rides and attractions. I can't say that I rode any rides this year, but the views from the ferris wheel looked like fun!
Response of Team
As I mentioned above, the Riot Fest crew was VERY responsive to any issues. On Day 1 there was a huge tent blocking the view from VIP2, but after sending a few tweets, the tent was moved on Day 2 to provide a better view from the VIP area. Thanks again for getting it moved, Riot Fest Guy!
The App!
I cannot say enough about this app. Riot Fest does it RIGHT! I attend many festivals, and I can't tell you how many people get it wrong, but Riot Fest knows what they're doing. The app loads quickly, doesn't have to download maps or schedule updates each time you open, and best of all, Riot Fest Mom was there to make sure you were drinking water and applying sunscreen.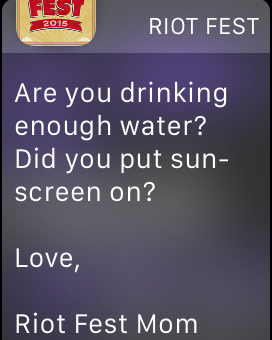 The Lineup
Lastly, as I said before, one of the best things about this festival is the lineup! You can read about all of my favorites in my first post.
I'm jealous of anyone going to Riot Fest in Chicago this week! I hope you all have fantastic times, and I'll be sure to follow along on Twitter!
Were you at Riot Fest? Do you have any suggestions for the Rodeo next year? Let me know what I missed!