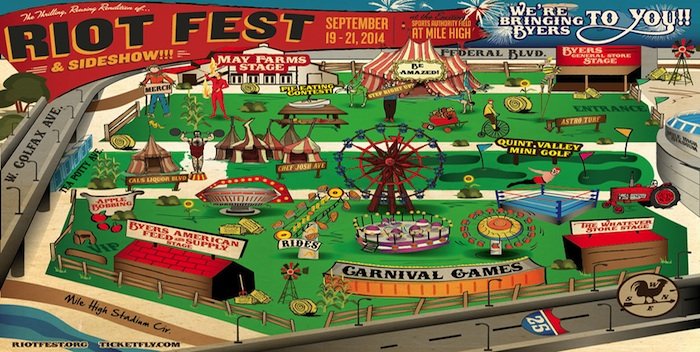 Riot Fest just announced a new venue for the festival in 2014: the parking lot of Mile High Stadium.
My initial reaction was "Really? From a farm to a parking lot?"
Can't say I'm too happy about where @RiotFest moved to: Mile High? Really? http://t.co/yGDTZMkNyo

— Monika McMahon (@monikarun) July 18, 2014
Then I re-read the post about how they were going to make the parking lot more 'Byers-like':
However, I do like that @RiotFest is turfing the parking lot so it won't be hot as balls! http://t.co/yGDTZMkNyo #milehigh

— Monika McMahon (@monikarun) July 18, 2014
The reason I was annoyed they were going to hold it in the parking lot is that it gets SO FLIPPING HOT at an all day festival there. I've attended Warped Tour in that same parking lot many times and it is HOT, and there is never enough water.
Perks of the move:
No dust storms:
And they added the Quint, Valley Mini Golf!
While the views will likely not be as gorgeous as these:
Think of the view of Downtown Denver from the top of the ferris wheel!
While I don't really like the move, I'm happy that Riot Fest is still coming to Denver, because this lineup ROCKS!
Who is coming with me to Riot Fest at Mile High Stadium?
Let me know if you'll be there with me!