Ever walk out to where you left your car, freak out that it isn't there, only to realize you parked on a different street? Yeah, that didn't happen to me this morning.
Being the responsible adults that we are, Aimee and I took a cab back to her house after the first night of the Underground Music Showcase (UMS) last night. On our way, we stopped at my car so I could grab my laptop and bag of clothes. There was a small discussion about if my car was good to leave there, and we all agreed it was.
This morning, Aimee and Bryan and I go to collect our cars before the Illegal Pete's breakfast session with the Recording Academy and the GRAMMY Awards. As we round the corner to where I left my car, I quickly realize it's gone. Bryan asks, "are you sure it is on this block?" I knew 100% where I left it last night, so we slowly drive by and see this pesky little sign that I must have missed:

You read that right, no parking from 7 am – 9 am Tow Away Zone. I've never had a car towed before, and I have no idea what to do next. Aimee and I get into her car and head over to Illegal Pete's anyways as I quickly Google "Downtown Denver Car Was Towed What Do I Do?"
Luckily that worked and got me to the non emergency police line where I was connected to Nate. He seemed like he might be new as he repeatedly asked where the car was left and was I sure it wasn't there anymore. Since I knew my license plate number, he was able to locate my car – they had done a 'short-tow' and just moved it a block away. It was almost in view of where Aimee's car had been, but since we weren't looking for it we didn't see it.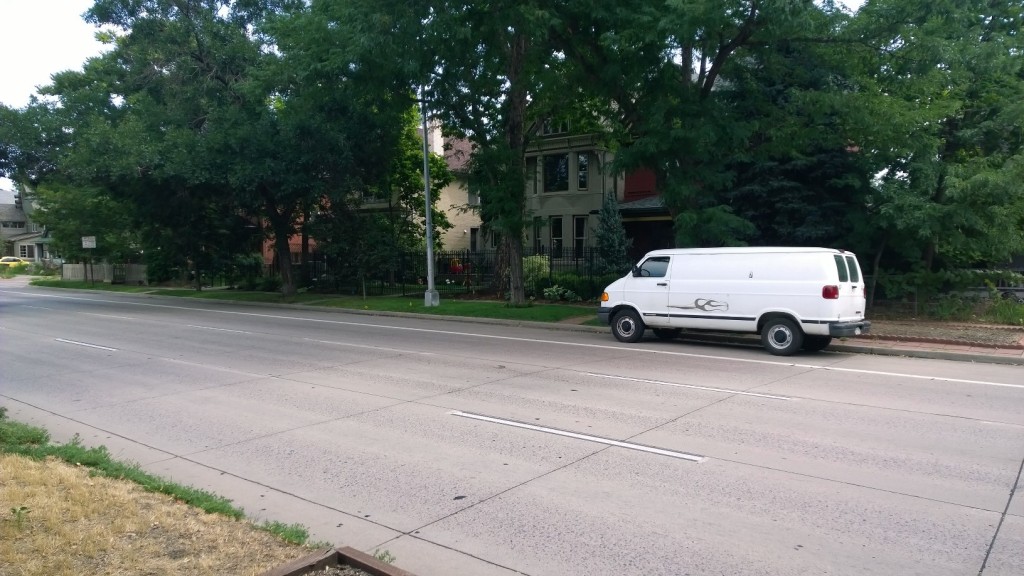 The white van is approximately where my car was parked. You can kind of see the no parking sign in the left corner. Kind of.
I was happy Aimee and I didn't have to spend hours locating an impound lot, finding an ATM to get a random amount of cash needed to get my car back and dealing with the employees of the lot.
I did, however, have a hefty $150 ticket on my car.
Anyways, I'm not blaming anyone here, because this was clearly my fault. Now I want you to learn from my mistake:
Read all of the parking signs if you drive to UMS!!!
Once we got to Illegal Pete's, we told Virgil and Amy the story. Guess what? I'm not the only one who has been towed from this spot! Amy has too. Because of that, Virgil created this handy little guide for bands playing at Illegal Pete's.
Illegal Pete's Guide to UMS
The inside has a bunch of tips to get the most out of UMS this year.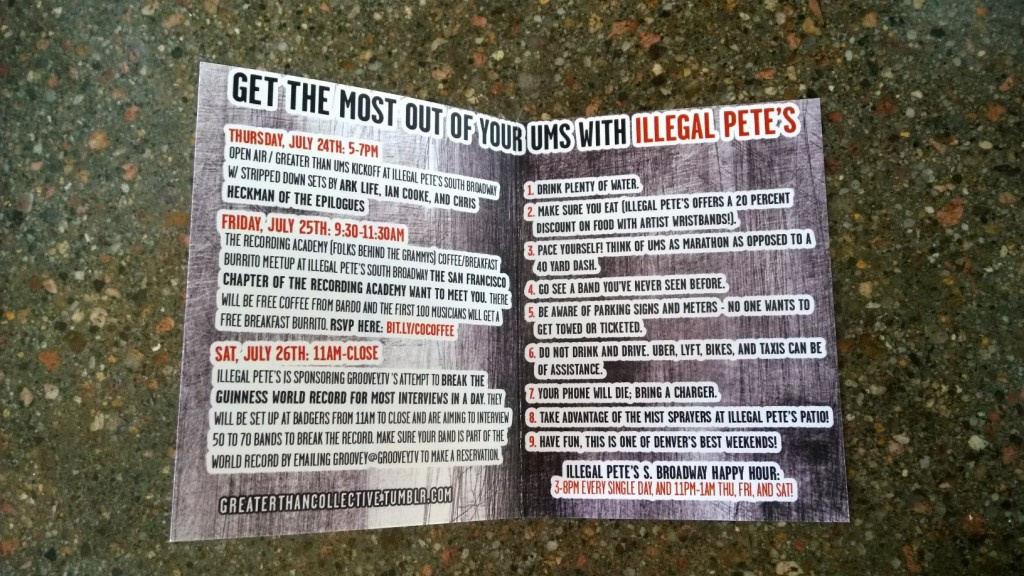 You see #5 on the right hand side? "Be aware of parking signs and meters – no one wants to get towed or ticketed!"
Virgil is right – no one wants that.
Where to Park at UMS
Scared this will happen to you? There are a few options. First, UMS has secured a parking lot on Alameda and Broadway that is clearly marked from Alameda. Plus, Schomp Mini's will drive you from the lot to the heart of UMS – great service!
Tonight I'll be parking at Aimee's and taking an UBER down to UMS. If you've never used UBER before, you can use the code UMSDEN for $20 free dollars!