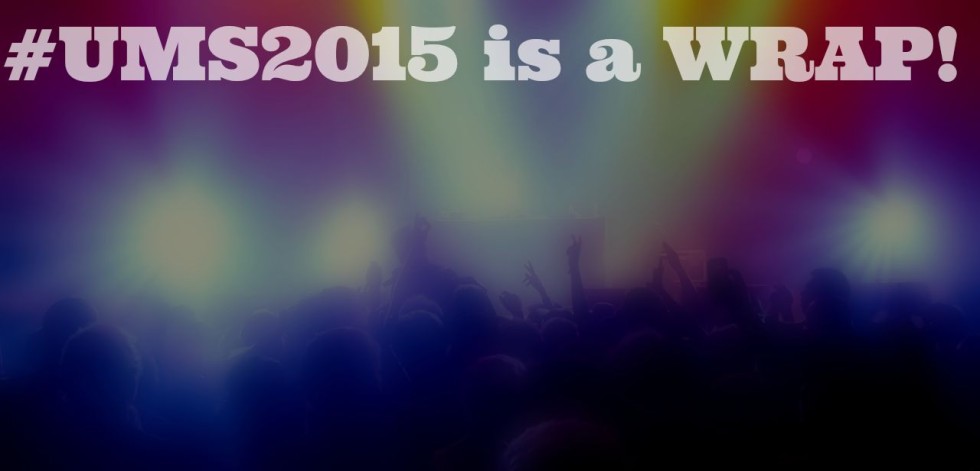 Wow, what a month July has been for me!
Jonathon and I started off the month with a working vacation in NYC and the rest of the month has just flown by with more travel and lots of concerts.
I was in the Catskills, NY for work until Thursday evening, so unfortunately I did not get a chance to properly plan my Underground Music Showcase (UMS) schedule, and ended up missing the whole Thursday night festivities (which might be a good thing considering my car got towed last UMS – yes, it was my fault), as I landed after midnight.
Friday at #UMS2015
Luckily I was able to get some sleep on Friday, and spend a few hours with my hubby before making my way back to Denver for the next 3 days of awesomeness. I made it to Denver just in time to watch the Denver Bronco's Mascot Miles rock out with In The Whale:
After some food and music (A Shoreline Dream) at Illegal Pete's, we headed over to the Hi Dive where we did *not* know what to expect from Rowdy Shadehouse. Here's my tweets, and you can go find the photos if you'd like (they are NSFW).
Well, I wasn't expecting that! @RowdyShadehouse just dropped their pants, tucked their junk, and continued playing!! #UMS2015

— Monika McMahon (@monikarun) July 25, 2015
The rest of the night was spent catching up with great friends in venues and on the streets, as well as watching some of my favorites: lsdbags, izcalli, Edison, Branded Bandits and more.
Saturday at #UMS2015
Saturday started bright and early heading down to Irish Rover to catch the SpokesBUZZ day party. This is always one of my favorite events, and today was no exception. SpokesBUZZ was nice enough to sell Noiselace for me during the event, so in exchange, we donated $5 from each sale to SpokesBUZZ, and they sold a lot!
The lineup at Irish Rover was fantastic starting with some soul from The Burroughs, pop/math music from Chemistry Club, Slow Caves who broke the stage, rapping from Qbala, punk from American Blackout followed by Wiredogs and ending the day party was izcalli! Wow, that alone was quite the day, but it was only 6 pm!
I did sneak away briefly during the day to see Red Fox Run at the Hornet, and I wasn't disappointed because they debuted this fine fellow:
Here's another video of the fox dancing (it's vertical because I was Instagraming/Periscoping…I don't think it will happen again #soicalmediafauxpas).
After the SpokesBUZZ party we headed over to the main stage to grab some sun, music and much needed food and water. We had an hour of downtime, and decided to head over to Blue Ice and watch the DJ's and check out some music that we may normally not watch. As we were sitting there, I noticed a disturbance on Broadway. I had *no* idea what was happening, but I grabbed my purse, turned to the table and said "something is happening out there" and then I ran outside. All I saw were people dressed in black marching down the street. Bryan grabbed Aimee and told her to come outside, which was perfect because she captured amazing photos and videos of this band, Itchy-O:
One of the highlights from yesterday at #UMS2015: @itchy_O!! pic.twitter.com/MJckKHcVuR

— Monika McMahon (@monikarun) July 26, 2015
It was fun, bizarre, a little bit scary and over all amazing. Definitely a highlight of the weekend. What a great group of musicians (who later asked for my video to share on Facebook!).
What could follow up that performance? Some more soul at the church from Burroughs! We danced the night away with more SpokesBUZZ friends and new Burroughs fans in the church – which was a great place to see them perform!
After that we walked down Broadway to see Reno Divorce at Gary Lee's and then Illegal Pete's for some dinner and a night cap. It was there that I ran into Josh Lee, who expressed his love for my parents (whom I texted and said they missed Josh as well).
All in all? A FANTASTIC Saturday Night!!
Sunday at #UMS2015
Sunday morning came early, and again lead us to Irish Rover to check out The Statuettes from Salt Lake City.
From there we checked out Oko Tygra at the main stage before going to watch SPELLS dominate the (unofficial) stage. Ben Roy was amazing and braided the guys beard that was standing right in front of me. Frankly, I'm impressed he could braid!!
After that amazing (and hot) performance, we decided to head to a place with AC, called Historians, who also happened to have one of my favorite ciders on tap – Malice from Stem Cider (they're in Denver).
After that Aimee, Bryan and I headed to the MLS All Star Game to see Aloe Blacc and Capital Cities. We ended up back at UMS for the last few bands at Skylark, but that was the majority of my weekend.
UMS is always a highlight of my summer, and I'm so happy I was there for 3 of the 4 nights. I can't wait for next year, but here's my #UMS2015 tweets so you can re-live my weekend!
Tweets about #UMS2015 from:monikarun

Were you at UMS? What did you enjoy that I missed?