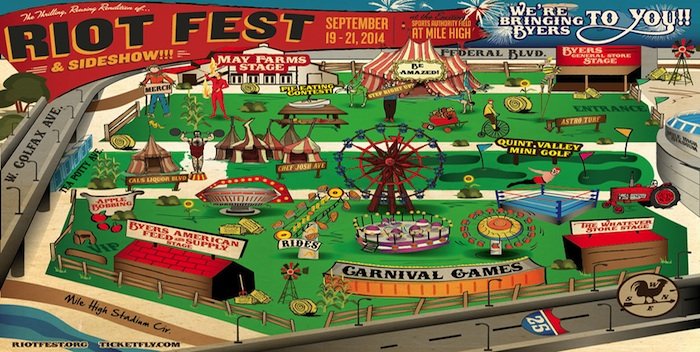 It is almost upon us, one of the last music festivals of the Summer 2014 season here in Colorado. Riot Fest has been in the news quite often due to the change in venue, and the fact that since it had it's 10 year anniversary in Chicago, they've extended the bands performing albums in their entirety to all three venues. See below for which bands are performing in Denver this weekend.
Gates Opening at Mile High Stadium
Gates open at Riot Fest on Friday at 2:30 pm, Saturday at Noon and Sunday at Noon. I definitely recommend getting there early to beat the lines, but also to see some great bands!
Transportation to Mile High Stadium
Parking will be $10 a car at Sports Authority Field at Mile High Stadium, so bring cash if you are going to drive to Riot Fest this year!
Otherwise the C, E, and W light rail lines of the RTD will get you close to the stadium if you prefer taking public transportation. Check out RTD-denver.com to plan your trip.
Other options include taking aLyft, Uber, taxi, Car2Go, or BCycle.
Bus Rides from Illegal Pete's
Don't want to mess with Lyft, Uber, taxis or figuring out the bus system? You're in luck! Illegal Pete's is offering rides to Mile High stadium from their South Broadway, LoDo AND Boulder locations!!! I'm excited because everyone forgets about me here in Boulder. Tickets from their Denver locations are $10, while tickets from Boulder are $25 BUT they include a burrito and beer. I'll take it! Buy Denver tickets here and Boulder tickets here.
Although, I would *not* recommend using the bus if you plan on getting to Riot Fest in time to see Wiredogs on Saturday! Get there as early as possible (and make me the happiest girl in the world. Plus, it's Stefan's Birthday week!)

Monika's List of Bands
Here's a link to Monika's schedule, or you can see the ones in red below (note that the list below is not in order of day and time, so some bands may not be highlighted due to conflicts):

Also, please, please, PRETTY PLEASE be sure to get there early on Saturday as Wiredogs kick off Riot Fest at 12:30 pm!!
Fanplan vs. Riot Fest's App
Normally I'd be telling everyone to use Fanplan.info to track their schedule and tweet the bands they are watching, but apparently Riot Fest's app is amazing! I wouldn't know because my iPhone won't let me download it, but sounds like it does everything you'd want a festival app to do. However, if your iTunes isn't working, like mine, or you have a Windows phone (also, like myself) Fanplan.info is there to help you navigate Riot Fest!
10 Year Anniversary
Did you know that this is Riot Fest's 10 year anniversary in Chicago? Well it is! And to celebrate, they asked the following bands to play an entire album for us lucky folks in Denver!
Weezer: The Blue Album
Slayer: Reign in Blood
NOFX: Punk In Drublic
Food Vendors aka Riot Feast
I stole the Riot Feast part from Riot Fest's website, but it was too punny not too. There are a TON of food vendors lined up this year! Aimee and I ate a ton of great food at the fest last year and looks like this year will be no different:

Thursday's Official Riot Fest Preshow
Kicking the week off will be Nostalghia at the Hi Dive. Buy your tickets now and rock out!
Friday's Official Riot Fest Aftershow
After Riot Fest day one, head to Summit Music Hall to see Blockhead, Elaquent, Yppah, and Chrome Drones DJ set. Buy your tickets now!
-OR-
Head to Marquis Theatre for Mineral with Christie Front Drive, and Into It. Over It. Buy tickets before it sells out!
Saturday's Official Riot Fest Aftershow
After The Cure, head to Summit Music Hall for Face to Face, Larry and His Flask, and Boldtype. Buy tickets here.
-OR-
Head to Marquis Theatre to see Glassjaw with Plague Vendor. Buy your tickets on Ticketweb now.
Sunday's Official Riot Fest Aftershow
The party doesn't end when Riot Fest closes the gates. Continue to rock at Marquis Theatre on Sunday night with The Expendables and Passafire. Buy tickets now!
Tickets
Did you know that tickets are still available? Get them while they last!
Better see you there rockin' out on Friday, Saturday and Sunday! Let's celebrate these last days of Summer with some kick ass punk rock music!!