What an amazing weekend of music in Denver! Thanks Riot Fest for coming back and bringing the Rodeo with you! Here's a recap of some of the highlights from this 3 day festival at the National Western Complex.
Riot Fest Day 1
Sadly, due to work and driving up from Boulder, we missed local band Input & Broken, but got to the festival in time to see The Get Up Kids. From there we watched Death Grips (and learned that Nerf really likes them!), then Airborne Toxic Event, Cypress Hill, and Coheed & Cambria. Ice Cube was the last band at Riot Fest we saw of the night (since Motorhead cancelled), although most of Ice Cube's set was a trailer for Straight Outta Compton. Sadly we missed System of a Down, but for good reason!
Riot Fest Afterparty with PPL MVR and Thrice
We left Riot Fest to go over Summit Music Hall to for the afterparty with Thrice, and the reason we were there, PPL MVR! This was the highlight of my evening. WOW! If you ever have the chance to see them, I *highly* recommend them. I might be a bit biased as Joey from Tickle Me Pink now plays with them, but they were fantastic. Here's some videos:
And a Yeti putting his finger in my mouth:
Riot Fest Day 2
Saturday was an *early* day as we got home around 4 am and woke up at 7:30 am to watch a building implode.
After the building fell down, we napped for a bit before getting up to head to Riot Fest. We got to the National Western Complex in town to see Bayside, Less than Jake and one of the highlights of my weekend: GWAR! Another band that just about all you can say about is WOW. I'm just glad that I was outside of the radius of the red, blue and green liquid they squirted all over the crowd. I saw people later in the day that were in the middle of the crowd, and they were still COVERED with colors on their faces, clothing and bodies.
After that I watched, The Vandals, The Damned, Mighty Mighty Bosstones, Eagles of Deathmetal, and one of the bands I was most excited for: Cold War Kids. Somehow I've been out of town EVERY time they have come through Denver, so it was my first time getting to see them! They killed it. I can't wait for them to come back so I can see them again. From there I watched Drive like Jehu, The Bunny Gang (who killed it!), Alkaline Trio, Kongos (another favorite), Pixies, and Modest Mouse. What a great Day 2!
We skipped the after party and went home to hang out and get crafty with our bandanas to stop the dust from getting in our eyes and lungs. And to get a bit of sleep. We had to get ready to rock again for Day 3!
Riot Fest Day 3
Sunday started just about as early as Saturday as Aimee and I got there in time to see 7 Seconds, followed by OFF!, Doomtree, Andrew WK, GZA, Babes in Toyland, and another standout for me: Yelawolf. Here's a few clips I took of him, although the bass doesn't really come through. That shit was LOW & LOUD!! It shook your body to the bones.
Afterwards we saw Explosions in the Sky, L7, Flogging Molly, and finished the night off with Tenacious D, The Prodigy and Snoop Dogg.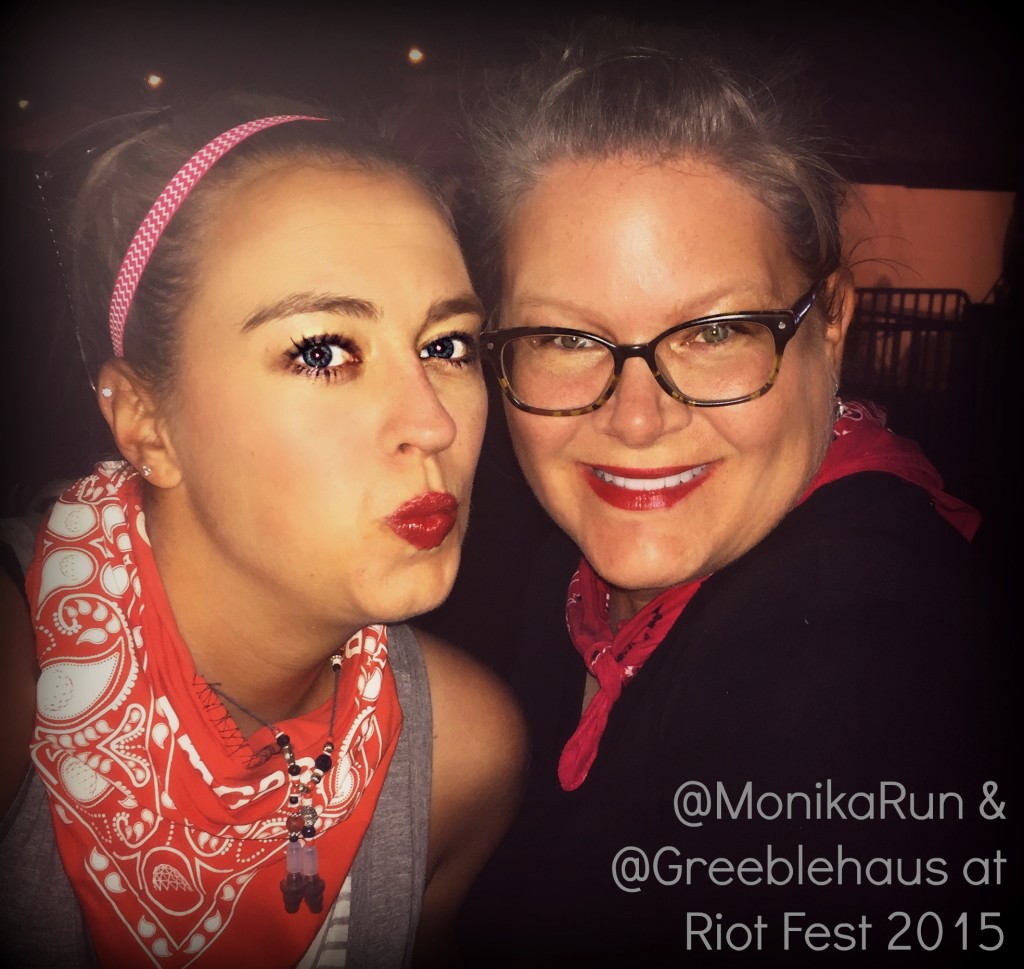 Riot Fest Afterparty with Rancid
However, that wasn't the end of the night for us! We headed back over to Summit Music Hall to see the final afterparty of the event with Rancid. It was the perfect end to the night, spent with fantastic music and even better company as we danced the night away with friends.
Bye Riot Fest
Looking forward to another great year next year – hopefully at the same location!