Tonight Jon and I cooked a great Paleo meal to celebrate his return from PaleoFX.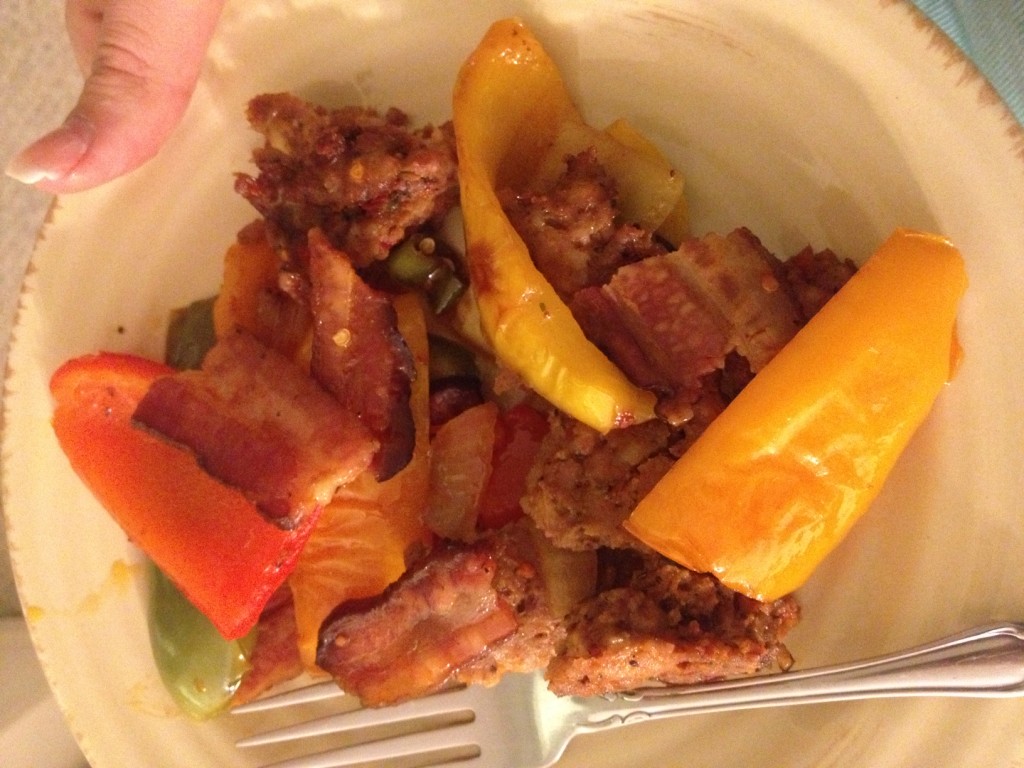 *
We were inspired by the cooking class we went to last week at Natural Grocers: "Paleo Cooking with Caveman Cafeteria: Where the Hunters Gather". Jon has been a friend and supporter of Will from Caveman Cafeteria for awhile now, and if you haven't been to his food truck, I *highly* recommend trying it. The deep fried brussels sprouts are amazing!
Anyway, back to the cooking demonstration. I wasn't sure what to expect, if it was going to be more informational, educational or an actual demonstration. When we got to Natural Grocers I was surprised by their presentation kitchen! There was plenty of room for people to watch, and the kitchen was huge!


I had never heard of a grocery store like this doing a cooking demonstration, nor had I ever attended, so I didn't know how many people attended, but it was a full house.
After a brief introduction, Will and his head chef, Johnny, talked through some of the dishes that they would be preparing for the crowd.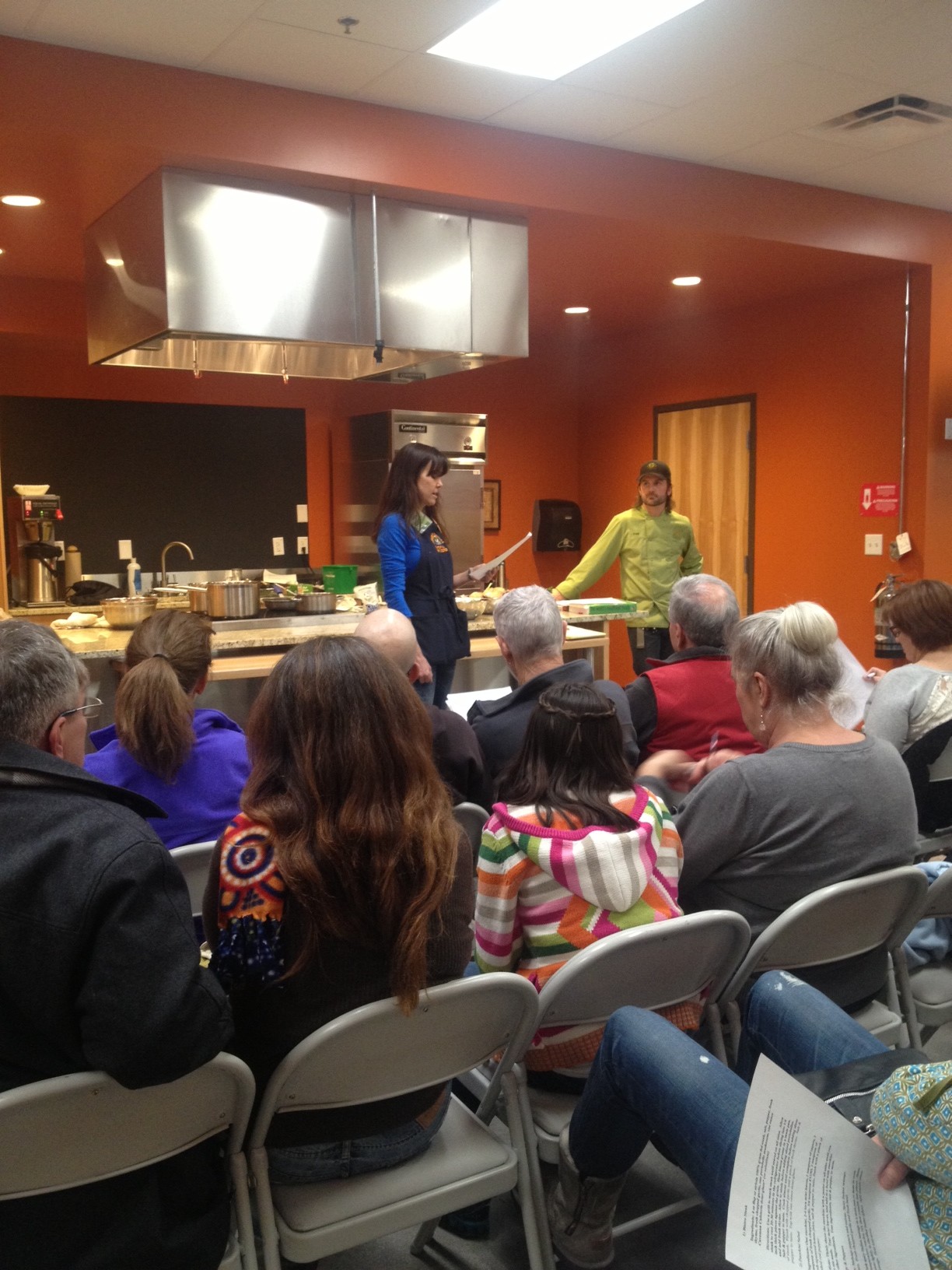 Caveman Cafeteria made a Zucchini Salad to start, then presented a Bistro Steak and ended with Sausage & Peppers.
Oh man, they were all so good!
Here are the recipes (and photos to show how good the food was):
Ingredients
1 Zucchini
2-4 Torn Mint Leaves
1 Teaspoon Capers
1 Teaspoon Fresh Chopped Garlic
3/4 Teaspoon EVOO
1 Teaspoon of Fresh Squeezed Lemon Juice
Salt & Pepper to Taste
Pinch of Crushed Red Pepper
Instructions
Thinly shave the zucchini with a peeler on all sides until you start to see the seeds.
Tear mint leaves.
Add all ingredients to a bowl.
Toss together.
Add salt & pepper to taste and a pinch of crushed red pepper.
Serve.
Ingredients
4 oz Flap or Sirloin 100% Grass-fed Steak
Salt & Pepper to Taste
Fresh Thyme
Fresh Chopped Garlic
1 Portobello Mushroom
1 oz Caveman Cafeteria Demi-Glaze (or substitute)
Instructions
Use a grill to mark steak until seared on all sides.
Allow steak to rest 20-30 minutes in the refrigerator before slicing into 1/4 inch thick pieces against the grain.
Heat bacon grease in a saute pan and add fresh thyme.
Allow to sizzle before adding sliced portobellos.
Add salt & pepper to taste.
Cook almost until complete before adding slices of steak.
Finish with chopped garlic and a pinch of fresh thyme.
Top with demi-glaze.
Ingredients
Melange Peppers
Onions
Spicy Italian Sausage
Tomato Sauce
Fresh Chopped Garlic
Fresh Chopped Basil
Instructions
Spread spicy Italian sausage on pan and bake in oven.
Saute peppers and onions in clarified butter (ghee).
Add tomato sauce.
Crumble sausage and add to peppers.
Serve.
*For our meal tonight we added serrano peppers to the saute, omitted the tomatoes and added some bacon to the finished meal. It was a bit spicy for Jon, but we think the tomato sauce may help cut the spice a bit.
I have to say, this is the first cooking class I have ever attended and I really liked it! I was impressed by the layout at Natural Grocers and I loved how open the class was. People got out of their seats to get a better view of what the Chef was doing, Will was answering questions from the audience the whole time and I think we all learned a ton.
Where do you gain your recipe inspirations from?