While Rise Against isn't a Colorado band, they do have many ties to this great state. Did you know that many of their last albums were recorded right here in Fort Collins, Colorado in the Blasting Room? Well, they were.
A few years ago I had the pleasure of going to a 'secret' show of theirs where they played in local clothing store, Kansas City Kitty. The store moved all of their merchandise to the sides, or put away in the back and a line started outside the store before they even closed at 5. I remember it was a pretty cold night, so my parents and I took turns waiting in line and warming up with a shot of Jägermeister at Surfside 7. We made it a family affair as Tickle Me Pink opened for Rise Against.
It was a very intimate setting, only allowing for about 70 people plus the bands who opened. I was front row and so close to the band while filming them, I couldn't get them all in the shot at the same time. Thank goodness for Noiselace, because that store was not made for rock shows.
Here's a few videos I took from the night, apologies on the sound, the PA in the store wasn't great, and I was a bit close to the band:
There was also that time that they bowled for the Flobots' Bowling Ball fundraiser, again, with Tickle Me Pink.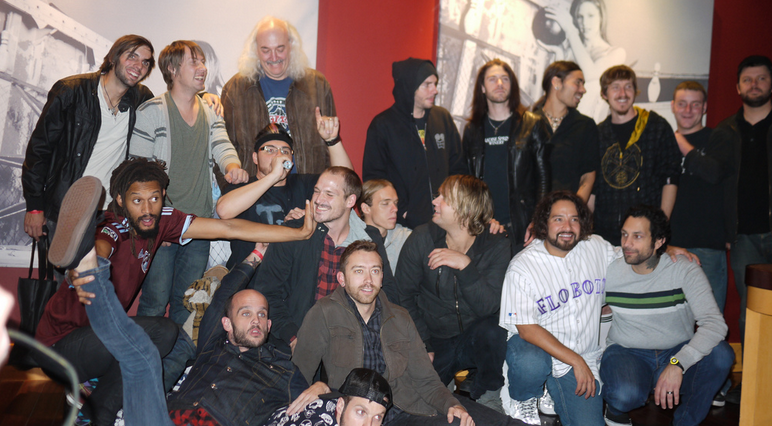 Anyways, back to the story at hand. The reason I'm selecting them as my pick for New Music Tuesday (beyond the fact that they rock) is that they invited many local artists to the Blasting Room to help them record this new record. The first few seconds of the very first track, The Great Die-Off, you can hear Ian Short from Rachel and the Kings on violin. On track 11, People Live Here, Amy Marie of Post Paradise plays her cello.

UPDATE:
Adrienne, Ian's sister, played viola and he also played 2 violin parts on "People Live Here" to give the song a full string quartet effect.
Take a listen to Rise Against's new record, The Black Market, now on Rdio:
What do you think? I love the album and band even more knowing that they invited these locals to record.