Except that it has now been 11 weeks of working out! Proof here: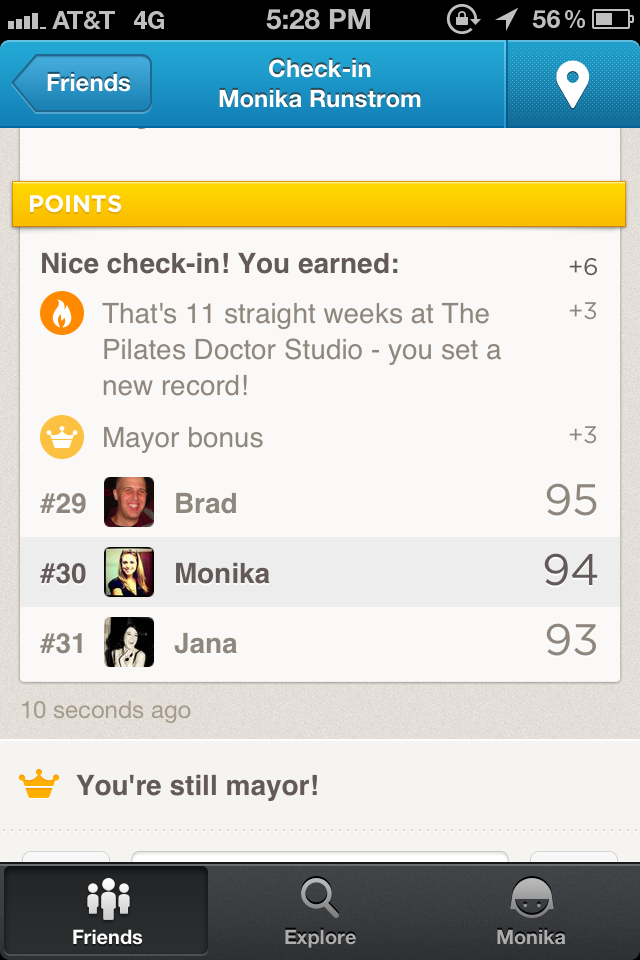 Instead of writing about this way back when I started Pilates, I waited. Mainly because I had people like LeVar and my mom who didn't think I would commit and continue. To be fair to them both, there is a lot that I start and don't finish. Blogs. Movies. Knitting Projects. Books. Working Out. The list is long, but I am proud to say that this blog isn't going by the wayside, and neither is Pilates!
I am attributing my love of Pilates on a few factors:
 The teachers there are amazing! Most of my lessons are with Cait, but I have also worked out with Elana and Skye, and they are all wonderful.
 The location of The Pilates Doctor Studio is key – right downtown Boulder, behind Illegal Pete's.
 Small classes. I am not a person who likes to be the center of attention, nor likes to do things in groups. The most people per class is 6, which means more attention from the teacher
 The workouts do not feel like workouts, they feel more like gymnastics, but my sore body tells me otherwise the next day!
 My brother's wedding is just a few months away – gotta get in shape!
Yes, it is a little on the pricey side, but after not ever committing to a workout or a gym in my life, I think it is worth the money to get my ass out of bed at 6 am on Wednesday mornings to do Pilates at 7 am. Now that it is summer I could go running (but really, have you ever heard me say anything about running? Yea, didn't think so) or even hiking (which is a possible activity I would partake in) but I recently found out that my foot is broken. That's right people, remember the Swollen Foot/Gout Debacle of 2011? Well turns out the doctor is an idiot and it is broken, or at least has multiple stress fractures. I am hoping that my Instagram isn't full of more of these photos this year:
What does that have to do with me loving Pilates? Well the doctor gave me a few stretches to do daily in order to strengthen the muscles around the broken bones and help keep all of the swelling from happening again, AND they are all ones that occur when doing Pilates. YAY! So, while the doctor didn't exactly endorse me going to Pilates (he didn't know what it was) it does the exact thing he told me to do, meaning, he endorses it! See how my brain works?
My second ever class consisted of the Daily Camera coming to take photos, video and have the reporter take a class to see what the Pilates and the studio was all about. See the article here and video below:
After my weeks at Pilates I am starting to see my muscles actually develop! It has also helped with my ability to hold my camera up for long periods at concerts, so hopefully my videos will become a bit less shaky (unless I have had a few beers, or am at the Marquis with their damn moving floor).
Want to come see what Pilates is all about? You are in luck! The Doctors Pilates Studio is holding a Pilates and Pinot event on Tuesday, June 19th from 5:00 – 8:00. Come hang out, see the machines, meet the teachers and drink wine!