Coming this Saturday is TEDxBoulder at Mackey Auditorium. I have never had the opportunity to attend a TED or TEDx, so I am really excited that I finally get to go to this one!
You have probably heard of TEDx, but in case you haven't, here is the definition from the TEDxBoulder website:
In the spirit of ideas worth spreading, TEDx is a program of local, self-organized events that bring people together to share a TED-like experience. At a TEDx event, TEDTalks video and live speakers combine to spark deep discussion and connection in a small group. These local, self-organized events are branded TEDx, where x=independently organized TED event. The TED Conference provides general guidance for the TEDx program, but individual TEDx events are self-organized.* (*Subject to certain rules and regulations). Check out some video's from last year's TEDx Boulder.
Speakers will be talking about anything from changing how we feed our children, to weather forecasts, to Biomimicry (no, I do not know what that is either, which is just more of a reason for you to attend!). Full speaker list (and definitions on the talks) can be found on the TEDxBoulder website.
Two that I am excited to see: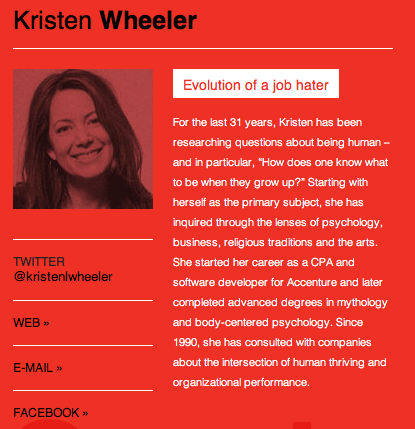 Here are videos from past TEDxBoulder presentations (and the reason I am so excited for Saturday!).
Grant Blakeman:

Brad Feld:

Even if you have plans on Saturday night, come out to TEDxBoulder first to connect with others, learn something new, leave inspired and, of course, listen to some music!