Have you tried to look for blonde bobby pins recently? The last few times I went to Target in search for the mini bobby pins, all I could find were the brunette version. I'm sure I'm not the only blonde who wears bobby pins, so where are they? I figured there had to be a better solution, so when I was shopping in Target last, the fingernail polish caught my eye and the crafty side of my brain lit up with ideas. I quickly grabbed 4 colors and a top coat, a bunch of bobby pins and hurried home to start crafting.
I wear my hair up a lot. I've been playing with different hairstyles, especially when I am on day 4 or 5 after washing my hair (yes, I still shower daily, thankyouverymuch). The colors I selected for this little experiment included one that matched my blonde hair, one that matched my purple hair, a silver and a teal because I found myself wearing that color a lot in the last few weeks.
This turned out to be a super quick little project. After attaching the bobby pins to a thick piece of paper (the magazine inserts work perfect for this!), I started coating the bobby pins with nail polish.
While that is pretty much all of the steps, I did learn a few tips and tricks along the way.
Use at least 3 coats of the lighter nail polishes, and 2 for the darker ones.
Let the bobby pins dry completely in between coats.
Be sure you get the nail polish all the way on the bottom of the pin on the crimped side.
Be liberal when applying the top coat and be sure to get all sides of the pin.
And lastly, don't buy the cheapest nail polish in the store. It smells. Really bad. Make sure your craft area is well ventilated regardless of the cost of the nail polish.
This whole project cost me $10 in new supplies (I don't own nail polish, so all 5 cost me about $6.50). Now I have 60 fun bobby pins to wear with every outfit this holiday season!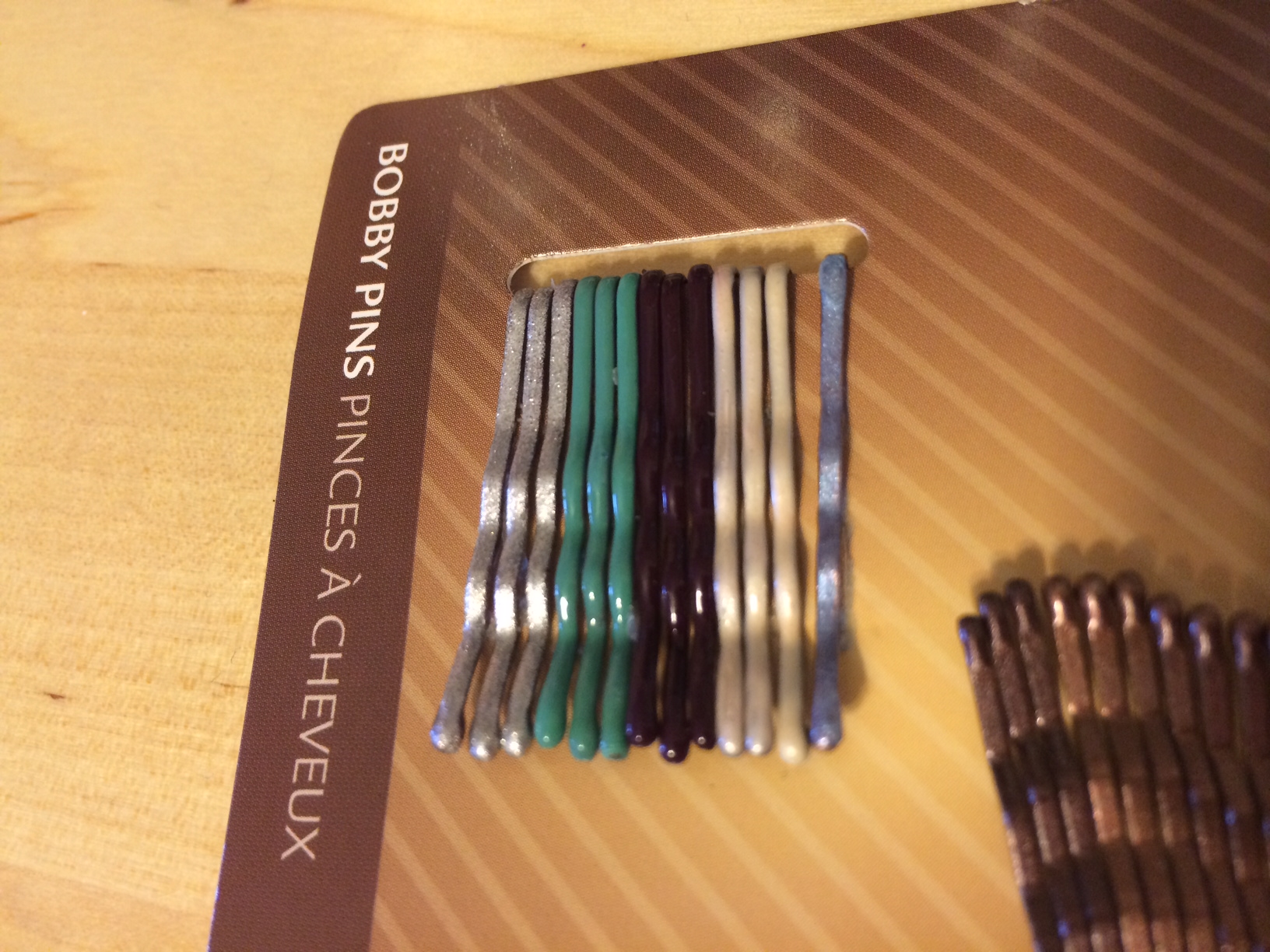 Oh and here is my failed colored bobby pin. I coated the pin with the top coat, sprinkled glitter on top and let it dry. Then I went back over it with the top coat. It didn't work, and made a mess all over my desk. Not worth it. Buy some glitter nail polish if you want glittery bobby pins.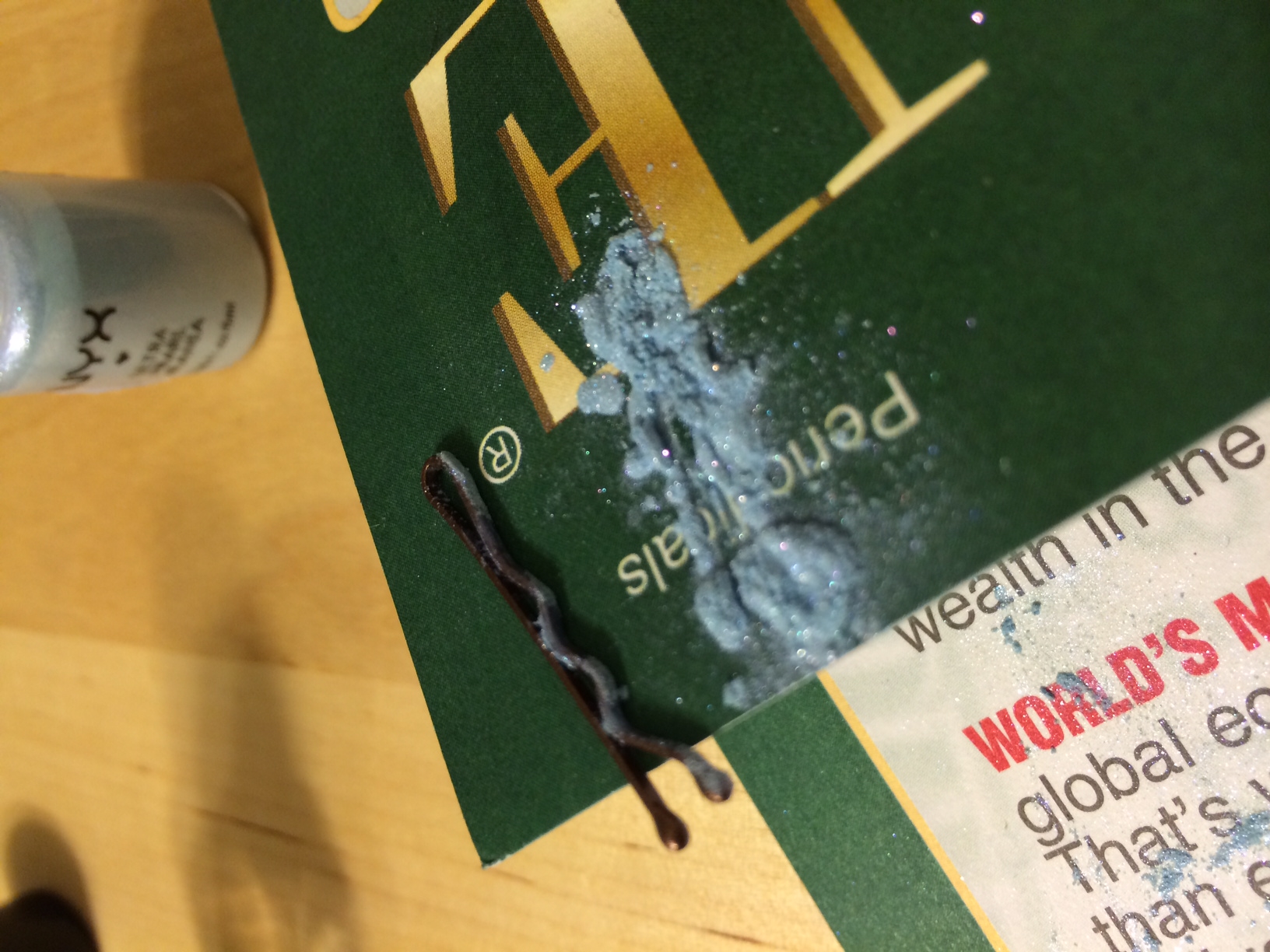 Here's the silver and teal in my hair: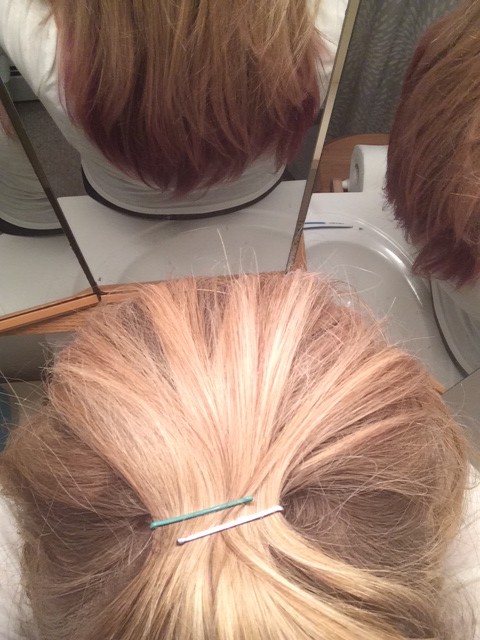 Will you be wearing your hair up this holiday season? I can't wait to try more up-do's and see how I can use these colored bobby pins!