This weekend marks the 5th annual Fort Collins Music Experiment. I've had the pleasure of attending them all and can't wait to get back up to Fort Collins this weekend!
I've put my tentative schedule below. You'll notice that Friday is a bit sparse, this isn't because there aren't some great bands playing, but this is because I most likely won't be there. #sadface I will be at a wedding, so I've quickly compiled a list of bands that you shouldn't miss:
Saturday is a different story. I will be out and about all day long, starting with the FoCoMA:ProDev panels at 1:00 pm. In the past these panels have been entertaining, full of great information and not only that, but the crowd that attends is a who's who of the NoCo music scene! This year the first session is titled: Sound Off: From the Perspective of the Sound Engineer and includes panelists from Hodi's Half Note, Aggie Theatre, Road 34 and more. The second panel starts at 3 and the title is: P.Y.T.: Polishing Your Talent with speakers Alf from KTCL 93.3, Jason Allen, Eric Eyl, Chris K and Ben Desoto. I highly recommend attending both sessions.
Here is my plan for the rest of the day: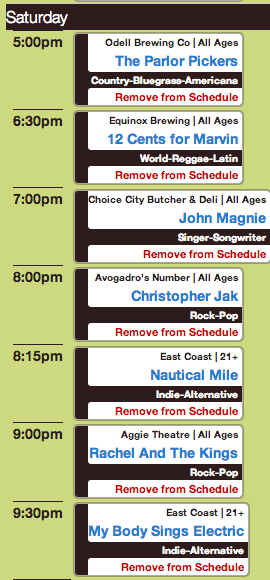 What are you waiting for? Plan your FoCoMX Schedule here! Also, be sure to follow me on Twitter (yes, I will use the hashtag #FoCoMX) and come hang out and say hello!