Sorry, no posts matched your criteria.
About Monika

Monika is a lover of concerts, a tech enthusiast, drinker of wine, whiskey and tequila. Following the
Paleo lifestyle
, not using
shampoo on my hair
and plugging myself into the wall at night are some of my latest adventures.
Community Manager by day, writer for
Cocktail Enthusiast
and creator of
Noiselace
, the earplug necklace by night!
Jonathon's Corporate Raider Jacket
Jonathon's been working hard with
BetaBrand.com
to make this hooded blazer happen, and it is finally for sale! You can buy the
Corporate Raider
now at
BetaBrand.com
- and if you are one of the first to
buy the jacket
, you'll get an even bigger discount!
Noiselace Earplug Necklaces
I created these necklaces out of the need to protect my ears by attending almost 300 concerts a year. This stylish, but
practical necklace
makes it easy for you to wear your earplugs at any event, be it NASCAR, shooting guns or a rock show. Here's how to use Noiselace:
Stitch Fix – Awesome Clothes Delivered to Your Door!
I signed up for
Stitch Fix
and can't wait to receive my box every month. Join me and let me know what you get!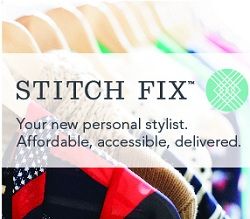 WhimseyBox – Stop Pinning, Start Creating!
Like crafts? Tired of just pinning and want to create something?
Sign up for WhimseyBox
and get a new craft project delivered to you monthly! From knitting, to jewelry making to tie dying. Join now to save $5 and your first month is
only $10!!
Ravelry Store
Help support my knitting obsession! I've created a few scarf and boot cuff patterns that I have posted over on
Ravelry
.
Search
Concert Calendar