By now you've come to know my love of Stitch Fix boxes. What you don't know is how often I buy things online. Working from home (both with my old job, and with my current) allows me to be home for all of the shipments (and darn signatures that UPS enforces). Not sure if it is laziness or convenience, but I truly enjoy trying items on in the comfort of my own home, especially shoes! I often buy 2 sizes from Zappos so I can try them on as I stand at my desk during the day to determine comfort.
I'm also curious about all of these new eCommerce boxes. Beyond Stitch Fix, the only other boxes I subscribe to are craft based ones, Whimseybox and Darby Smart to name a few. I never got into the makeup boxes like Birch Box as I am very picky about the kinds of makeup and lotions I use, and I don't use nail polish so Julep isn't for me.
I recently came across Wantable and was a bit skeptical of their boxes. They offer a few different kind of boxes: an intimates, fitness, makeup and accessories. They were offering a 50% discount for first timers, so a box was only $18!
Let me back up for a minute. When you first go to Wantable.com and select which category you're interested in, you take a survey of questions ranging from your size, color palette you prefer, type of clothing (tops vs skirts vs hoodies vs socks etc).
The first box I chose was the intimates box as it sounded like the most interesting to me. Tank tops, underwear, socks, bras, tights etc. Here's an example of the survey you take to help guide them to finding you the perfect items: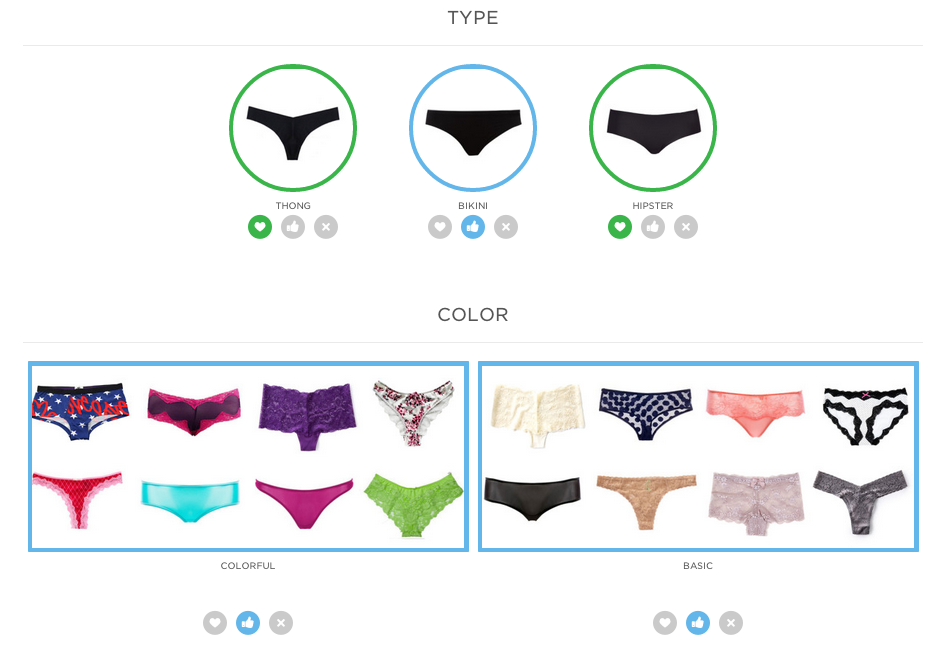 When you pick the intimates box you pay a flat fee of $40 (or $36 if you subscribe do their monthly boxes) and then get to keep everything in the box. It is a different, riskier model than Stitch Fix, but my first box was only $18, so what did I really have to lose?
This is what was in my first Wantable Intimates box:
A pack of fun-colored Puma socks; lacy bright-pink underwear; orange thong; and a white lace tank top.
I absolutely LOVED each item! It was perfect, and not off base for $36! It's been three weeks since I received the box and I have worn all of the items too many times to count. That's when you know you got a good box!
I'm signed up to get another box here this month and I can't wait! I've also signed up to get their fitness box, so I'll be sure to post what I get in that box on here as well!
What are you waiting for? Sign up your Wantable's box today!